University marks World Mental Health Day
The University is marking World Mental Health Day – a day for global mental health education, awareness and advocacy against social stigma.
The University of Glasgow's Mental Health Action Plan, which was published just over a year ago, sets out our approach to the mental health of students and staff across campus. The action plan is about wellbeing, awareness raising, training and making sure everyone has access to professional counselling as and when they need it.
Society is generally much more aware of mental health issues and people are more willing to talk about mental health issues. We want to encourage people to stay well, to raise awareness throughout the University community and to provide training to a wide range of people across the campus. Over 200 members of staff have already undertaken Mental Health First Aid training and many more staff and students have participated in the SRC's Mind Your Mate programme and in peer support networks. These networks are now being extended, with the entire College of Arts soon to take part in a pilot.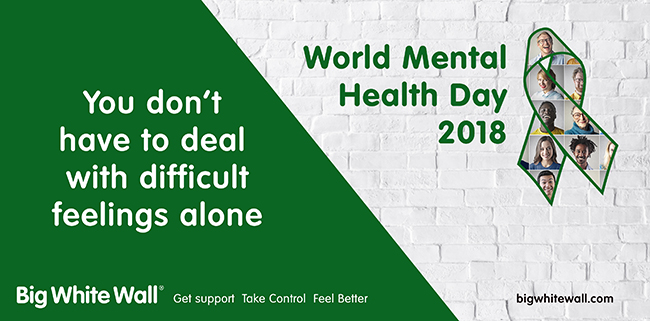 In addition to extending provision by our Counselling and Psychological Services (CAPS), we have introduced the 'Big White Wall' – an online and telephonic service for students. This should help us ensure that students can gain instantaneous access to professional advice as required.
The Counselling and Psychological Service itself has been reorganised and additional staff appointed. This September, for the first time in many years, it started the academic session with no waiting list.
Some key facts about CAPS:
From 2013/14 to 2017/18 there was a 52% increase in the number of students accessing support from the service. The total number of students who accessed the counselling and psychological service in 2017/18 was 2,507.
The service is comprised of a multidisciplinary team made up of Counselling psychologists, clinical psychologists, psychiatrists, cognitive behavioural counsellors and person-centred therapy counsellors.
The service offers 40 appointments per week through its priority response clinic. These are emergency appointments that students, staff, academics and sometimes parents use to discuss student crisis and student personal risk. Half the appointments are bookable online, while the other half are accessed via walk in, telephone or email.
CAPS continues to provide peer support for participating schools, assisting students with problems that otherwise would escalate into more serious risk and crises.
The service provides Mental Health Advisor support to students who have a diagnosed mental health condition, and who qualify for funding through external Disability Funding Agencies.
The service also liaises with local GP practices, who refer students directly to the service.
CAPS provides training for staff in specific colleges, schools and units on request. This includes advice on how to manage a crisis such as dealing with people who are suicidal.
In terms of waiting times our early data suggests from referral to assessment:
53% were seen within 2 weeks of referral,
73% seen within 3 weeks of referral
All referrals were seen within 5 weeks
Working closely with CAPS, the university crisis team is available 24 hours a day to manage and advise on critical situations; these often focus on suicidal students.
For staff, the Employee Assistance Programme is available for free and offers round-the-clock professional support for those who need it. Knowledge of the service is steadily growing, with more members of staff accessing the website for help and advice. During 2018-19, we will be working with the campus trade unions to raise awareness of the service among all groups of staff – especially men, who are statistically less likely to use EAP. We hope to hear more from staff about mental health issues through the staff survey which is currently underway.
Looking forward, we intend to place more emphasis on helping staff and students to stay healthy. We are putting together a wellbeing framework, which will draw on best practice from across the higher education sector and beyond.
On World Mental Health Day, the main messages for staff and students are simple:
Good mental health is everybody's business
Prevention of mental illness is much better than the cure
Mental ill health is real and must not be stigmatised
Everyone should have access to high quality professional help if they need it.
David Duncan
Chief Operating Officer and Mental Health Champion
---
First published: 9 October 2018