Download the New Student Welcome App
Are you a new student at UofG? If you are, then download our New Student Welcome App to help you as you start your new life at university.
‌The app is live and available for use by undergraduates and postgraduates, throughout the 2018/19 academic year.
It is a one-stop shop for everything you need to know as new members of #TeamUofG – both before arriving in Glasgow and when you are here.
It also offers support and guidance and will be continually updated throughout your first year.
Key sections include:
Stuff to do before you come, including a To-do list.
Over 400 non-teaching events, activities and key & useful dates, all of which can be added to your personal schedule, complete with pop-up reminders.
Stuff to know when you get here section.
Who else is going - so you can connect with one another before you arrive.
Links to the Timetable & Roomfinder; the New Student Website and Guide; Disability support; Academic advice & development; Campus & building maps; Places to eat on campus and Emergency contact information, etc.
Also links to the University's main social media channels, MyGlasgow News for Students and UofG Events calendar.
The hundreds of events and activities can be fully searched and scheduled. The app is a collaboration between External Relations, Student & Academic Services, the four student bodies -SRC, QMU, GUU, GUSA - plus the University's Transitions Working Group.
If you want to know what's going on, when and where, or just browse key information that will help you get off to the best possible start, this is the app for you!
Download the New Student Welcome app before you arrive, it's "full loaded" and good to go on any Apple or Android device (or use in a browser if you prefer). It's open and accessible to any user, no passphrase or code required, just follow the instructions at guidebook.com/app/uofgwelcome/guide/uofgnewstudent2018
If staff or students want to know more, or have suggestions for improvement, please get in touch with Jonathan Jones in External Relations jonathan.jones@glasgow.ac.uk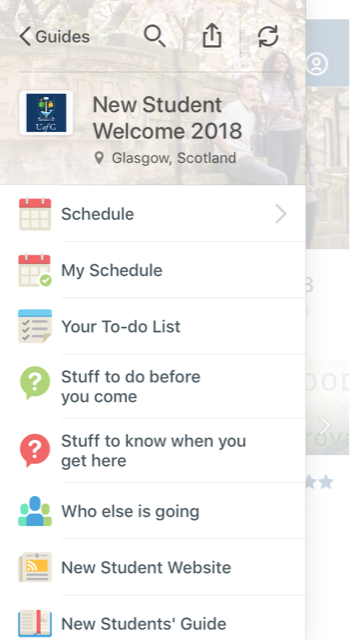 ‌
---
First published: 26 August 2018