Chapel Choir in China
The Chapel Choir of the University of Glasgow have just returned from our first tour to China, undertaken in association with the University of Glasgow Confucius Institute and the Hanban, who provided all in-country expenses (accommodation, meals and transport).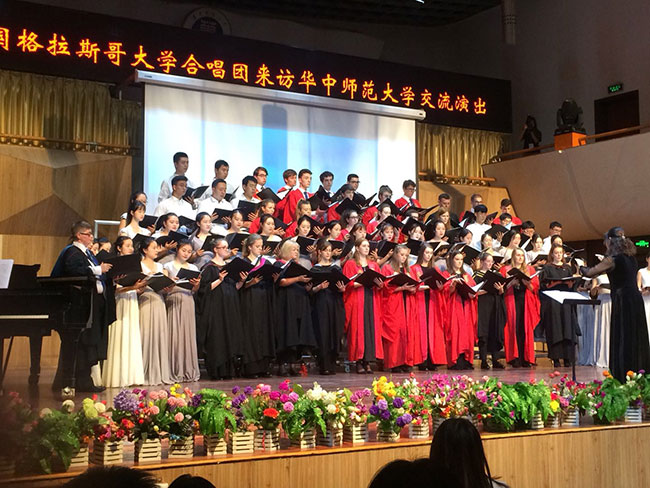 It was possible to take such a large group (of 33) because the Confucius Institute won the 'Confucius Institute of the Year' award in 2016. We were also extremely grateful for the generous support of the Chancellor's Fund, and everyone who donated to our fundraising campaign, writes Dr Katy Lavinia Cooper, Director of Chapel Music.
"We gave well-received performances at partner institutions in Chengdu (UESTC and Sichuan Normal University), Wuhan (Central China Normal University) and Beijing (University of International Business Economics), and at all three were joined on stage by members of the partner institution's own choirs. At UESTC we visited and rehearsed in the Glasgow College, a Joint Education Institute established between the UofG and UESTC. In Beijing we were delighted to meet members of the UofG Alumni Association who attended the concert. We also gave a fundraising performance for Rotary International in Chengdu.

"It was a busy 11 days, with six flights, five concerts, welcome receptions, campus tours, networking events with students and university staff, a visit to the Confucius Institute Headquarters at the Hanban, and many once-in-a-lifetime cultural visits including meeting pandas near Chengdu, visiting the Yellow Crane Tower and an unforgettable trip to the Great Wall.

"We were extremely well looked after by our host institutions and would like to thank everyone in China, and here in Scotland for their support, particularly Duo Long from the Confucius Institute at the University of Glasgow who in addition to planning the exchange, accompanied us on the trip. Many thanks also to Dr David McGuinness (Music) who joined us as pianist," said Dr Cooper.

If you'd like to hear the choir in action, its free weekly Choral Contemplations twilight concert series begins on Tuesday 25 September in the Memorial Chapel at 6pm.
---
First published: 17 September 2018