Student ambassadors make graduations extra-special
Issued: Mon, 16 Jul 2018 12:03:00 BST
A new team of 20 student made graduation day even more special than usual for graduating students and their families and friends.
They were on hand at every ceremony to offer directions, advice and information and help make the event run a seamlessly as possible.
Many of them were international students and therefore able to assist international guests at the ceremony in their own language.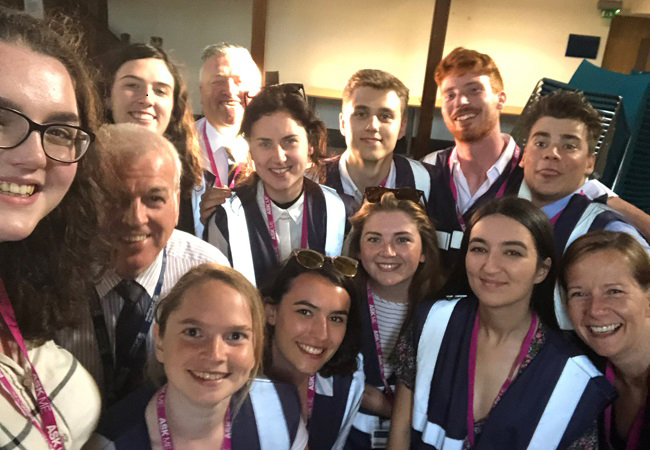 They were trained by the University's security team, (Gary Stephen , Gerry Moore and John Shannon) with the aim of providing a more customer-centric service.
So successful was the team recruited for the summer graduations that there are plans in place to do the same for the winter graduations.
Gerry Moore, Traffic Security Manager, said: "We wanted to enhance the service we provide even further and asked ourselves: 'Who are the best people to deal with students on Graduation Day? It's the other students'. They were excited and motivated to see the graduations and right from the training day we knew it would work."
Amber Higgins, Senior Academic Policy Manager (Ceremonies), who enlisted the student ambassadors, arranged their shift patterns and organised the training day, said: "It was great to get the students involved with the running of graduations. They helped with international guests as a number of the students were able to speak with them in their language. The students themselves also gained a number of skills from the role and we hope to be able to continue and build on this."
One of the student ambassadors was Kristupas Liubinas, from Lithuania, who is about to go into third year of Computing Science and Business & Management.
He said: "I am very glad I decided to join the group of student ambassadors at this year's graduations. I have met and worked with incredibly professional, passionate and fun people from University's Janitorial / Security team. They not only prepared us to make the occasion a delightful experience for everyone attending but also made sure that we, student ambassadors, were having a great time while doing so! At the same time, as an international student, I got to experience a true Scottish celebration with everything that makes Scotland so unique - bagpipes, kilts and countless smiles around. The atmosphere was absolutely wonderful. Days like these make me feel proud to be a part of Glasgow University's community and certainly look forward to my own graduation in the future."

Emma O'Kane, in her postgraduate year studying Media, Communications and International Journalism, said: "I applied to become a student ambassador because it was the perfect opportunity to learn more about UofG whilst earning some extra cash for summer as I worked to finish my dissertation.

"It was an incredibly enjoyable experience: performing as student ambassadors gave us an insight to our own graduation ceremonies as well as an appreciation for the hard work that goes into the event management and campus security efforts. Later this year, I'll graduate from UofG feeling very much part of the community and, for my CV, I can add skills in teamwork, communication, health and safety."

She added: "Sharing this day with the graduates was both exciting and rewarding. Given the build-up to this special day, it can often be a stressful one. I am pleased to have been a part of the team that acted to reduce this stress and provide as seamless a service as possible for the students who have left UofG as world changers and their families."
---