Archaeologist helps bring urban prehistory to the playground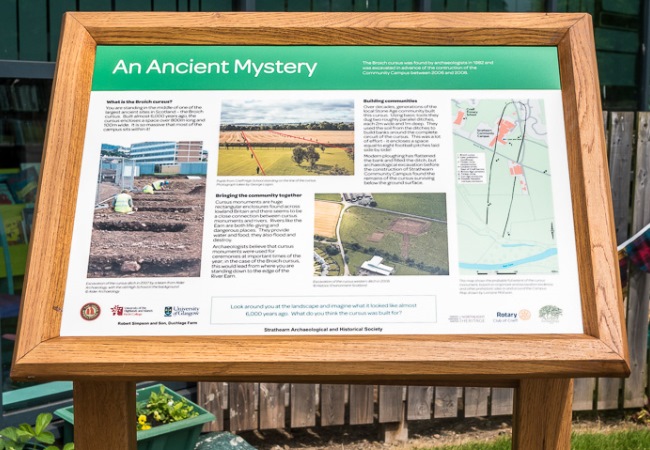 A new information panel was unveiled at a Perth and Kinross High School to inform pupils and the local community about an invisible but significant prehistoric monument that runs beneath their feet.
The new resource is part of the Strathearn Community Campus Archaeology Trail and tells the story of the Broich Cursus which runs beneath the school buildings and attached leisure centre. The Broich Cursus is a rectangular earthwork ceremonial enclosure measuring at least 800m by 100m and daties back to over 5000 years ago.
The site was recorded from the air by archaeologists in 1982 and excavated in advance of construction of the campus in the 2000s. The noticeboard was designed by Dr Kenny Brophy, a senior lecturer in Archaeology at School of Humanities | Sgoil nan Daonnachdan with the help of local collaborators.
The new board will be one of several information panels around the campus celebrating invisible prehistoric archaeological sites under and near the buildings. A teaching space in the campus was also re-named the Cursus Theatre.
The panel was unveiled by Eila MacQueen, director of Archaeology Scotland, in front of an audience of local people, pupils and MPs Rory Stewart and Luke Graham.
Headteacher of Crieff High School, Christine Deeley, said: "I was delighted to welcome Eila MacQueen, Director of Archaeology Scotland to the Campus to unveil our second information board. The board tells the story of the Broich Cursus which sits under the present day Campus. In her speech, Eila said this project – using archaeology for the benefit of a school and broader community – fulfils all five aims of Scotland's Archaeology Strategy.
"The information board will help share the story of the Broich Cursus not only with visitors but also with our local community in Strathearn who may not be aware of its wonderful story. A further two information boards are planned to complete the Trail, along with a timeline walkway as visitors approach reception."
Dr Brophy added: "This is a really exciting project as it gives the chance for pupils and community members to learn more about some amazing archaeology that is literally beneath their feet. My urban prehistory project is all about helping people engage with and benefit from prehistoric sites within their communities.
"In this case, information gathered during the excavation of the Broich Cursus in advance of school construction by Alder Archaeology a decade ago at the tax-payers' expense is now rightly being used to benefit the people of Crieff, and impact positively on the life and ethos of the school and Campus, who have been very supportive in making this happen."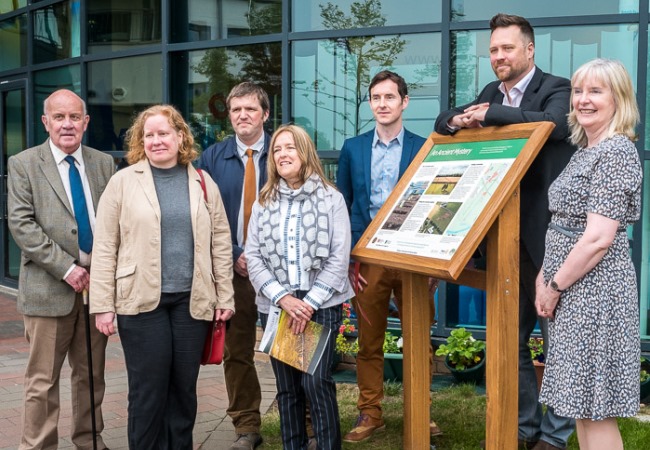 ---
Photos taken by and courtesy of George Logan
First published: 31 May 2018