Professor Jill Morrison to be next Clerk of Senate
Issued: Fri, 27 Apr 2018 10:34:00 BST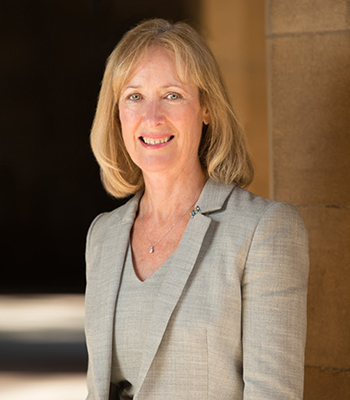 Professor John Briggs will be standing down as Clerk of Senate and Vice Principal on 31 July after 6 years in the role, and he will be replaced by Professor Jill Morrison who will take office from 1 August.
Professor Morrison will be the 48th Clerk of Senate, and the first woman in this role, since the office was created 290 years ago in 1728.
The Clerk of Senate has responsibility for the governance of academic policy and practice right across the University and is sometimes referred to as the senior academic of the University.
As well as having responsibility for academic standards, the Clerk of Senate also oversees student conduct and academic ceremonies, most notably the Graduation ceremonies held each June/July and November/December.
Professor Morrison said: "As Clerk of Senate, my approach will be to build upon the achievements of my predecessors and continuously improve our processes to ensure that they are fit for the 21st century. We should ensure that our processes are as efficient as possible to enable the University to respond quickly and flexibly to opportunities and challenges.
"I am looking forward to working with a wide range of colleagues, both academic and professional, across the University and I am looking forward to working more closely with student colleagues in the SRC and other student organisations.
"I am excited by the opportunity to apply the knowledge and skills I have learned over the past 28 years, to serve the University at the highest level, and to be a role model for younger female students and staff."
The outgoing Clerk of Senate, Professor John Briggs said: "Despite the full-on pressures of the post, I have very much enjoyed the last 6 years as Clerk of Senate. I have been very lucky to have had so many supportive colleagues around me and I owe a debt of gratitude to all of these colleagues. I can only wish Jill the very best of good fortune when she takes over in August and I am sure that she will enjoy the same support from colleagues that I experienced."
---