New appointments to SMG
The University has announced additional senior appointments and changes to the Senior Management Group.
The University's Executive Director External Relations, Rachel Sandison, will join the Senior Management Group from January 1 2019 as Executive Director External Relations and Vice Principal. She will be taking over Professor Jim Conroy's role when he demits office as Vice Principal (Internationalisation) at the end of the year. The University will also appoint an academic lead as Assistant Vice-Principal (International) in the next 6-8 months who will report to Ms Sandison, and who will help manage the Deans for Global Engagement.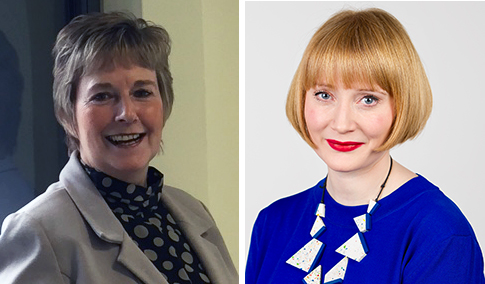 Christine Barr (left) and Rachel Sandison
Ms Sandison said: "I am delighted and honoured to be joining the University's Senior Management Team as Executive Director and Vice Principal, External Relations, at one of the most exciting times in the University's 567-year history. This new role reflects the strategic importance of our advancement activities as we strive to consolidate Glasgow's position as a world-leading, world-changing institution."
Christine Barr, The University's Director of Human Resources, will also be joining the Senior Management Group with immediate effect. Mrs Barr said: "I very much look forward to continuing to work closely with SMG, now as a formal member of the executive team.
"I am particularly delighted that the role of Director of HR will be an integral part of SMG as this truly signifies recognition that 'our people' are at the heart of University Strategy and instrumental in achieving our goals and ambitions. This places strategic people issues and culture change at the forefront in the realisation of our vision and future success as we transform the way we work together."
These appointments and other recent additions will see the University of Glasgow's Senior Management Group attaining a 50-50 gender balance.
---
First published: 13 April 2018