Assistant Vice-Principal Appointment
Issued: Wed, 18 Oct 2017 15:50:00 BST
Des McNulty has been appointed to the position of Assistant Vice-Principal (Economic Development and Civic Engagement) from 1st October 2017 for 4 years.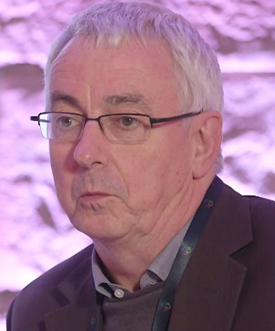 As Assistant Vice-Principal, Des will contribute strategic direction and leadership to our economic development and civic relationship building, with a particular focus on our developing relationships with the city of Glasgow and the impact of the City Deal.
A public policy and knowledge exchange specialist with over 20 years' experience in higher education and substantial knowledge of government and the Scottish Parliament, Des has worked for a number of years in the College of Social Sciences as Deputy Director of Policy Scotland and in a wider University role as Dean of Public Policy and Knowledge Exchange. He is the Vice-Chair of the Glasgow Commission on Economic Growth, which provides strategic advice and support for evaluation of the Glasgow City Deal. Des is taking on his new Assistant Vice-Principal role on a part time basis while continuing to fulfil his current roles.
Delighted
Senior Vice-Principal Neal Juster said, "I am pleased that Des has agreed to take on this vital new role for the University, building on his already strong leadership in this area. His experience of building partnerships with both the public and private sector will be critical as we seek to build a competitive, world-class innovation district for the City of Glasgow."
Des McNulty said: "I am delighted to have the opportunity to work with colleagues from across the University in promoting the innovative capability and reputation of the University of Glasgow. By building strong links with all levels of government and working with the private and voluntary sectors, the aim is to identify new opportunities for collaboration, while consolidating and enhancing the local, national and international reputation of the University of Glasgow and delivering the objectives set out in the University's strategic plan "
---