Results for the colleague engagement survey now available
Results for the colleague engagement survey now available
The University's surveying partner, People Insight, has now published their independent report of the results of the Colleague Engagement survey. This is now available to download from the colleague engagement webpages, along with an infographic which draws out some of the themes from the report.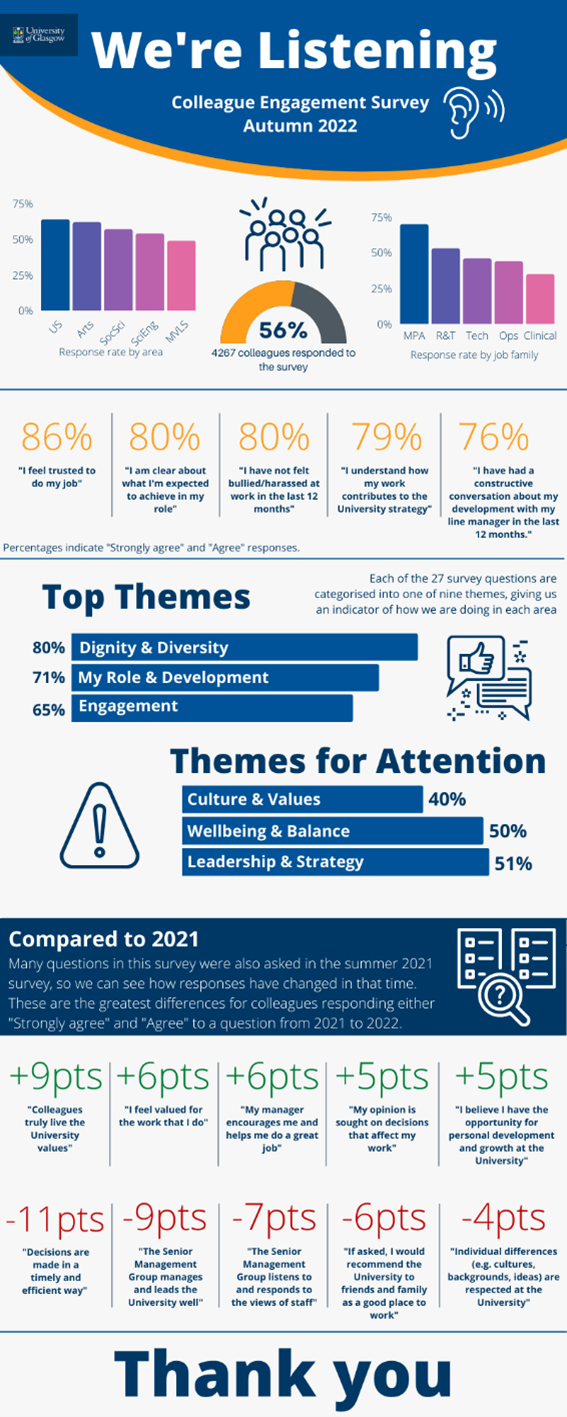 This most recent colleague engagement survey ran from the 5-28 October, with a response rate of 56% – over 4,200 colleagues sharing their views. The report shares the overall University results, including how we compare with our sector benchmarks, and with the last survey in Summer 2021.
The survey results demonstrate many areas of progress in the last year, with increases in questions such as those about colleagues living the University values and feeling valued for the work we do. We compare well to other universities on a number of points, particularly on feeling that we have opportunities for growth and development – 22 points ahead of others in the HE sector. There are also areas for attention in the results, such as leadership performance and wellbeing & balance. Analysis of your open text comments is underway to understand the best way forward in response.
The University has moved to a pulse surveying model, and there is another short survey planned for the spring. If you have any questions about the Colleague engagement survey, or this report, please contact Jessica Watson in Organisational Development on HaveYourSay@glasgow.ac.uk
---
First published: 2 December 2022