Research Hub update
The delivery of a Research Hub – planned for occupation in Quarter 4, 2020, and subject to University Court approval – demonstrates the University's commitment to creating an intellectual magnet for staff, research students and external collaborators at the core of the campus development, writes Dr Neil Bowering, Project Sponsor.
Housing approximately 600 academics, postdoctoral researchers and PhD students, the hub will create a free-thinking, collaborative environment to attract, stimulate and enable interdisciplinary and world-changing research. It will engage and connect the University with research partners, industry, the City of Glasgow and global communities.
The Research Hub will not be exclusive in its approach; on the contrary, it will be a resource for everyone in the University to use in various ways, whether this is for PGR training, as a Centre for Doctoral Training, or hosting seminars, events or other uses. There will be no access restrictions for researchers across the campus. Teams of researchers will be able to use spaces within the hub on short and a medium term basis to support their collaborative research efforts.
If we are to enhance our international reputation as a University capable of tackling some of the major global challenges we have to change our approach to the development and successful delivery of research and innovation programmes. That means creating spaces that enable us to move away from our traditional disciplinary silos to an approach which promotes the creation of multidisciplinary collaborative teams and environments.
The Research Hub will have an initial focus on thematic areas across all four Colleges, with the following areas identified
Technology Touching Life
This theme will drive novel approaches to the delivery of ground breaking basic and applied biomedical research through collaborations across engineers, physicists, biologists and chemists as well as clinical specialists. It will be underpinned by cutting edge technologies such as advanced imaging, polyomics and microfluidics. By drawing together this expertise the theme will offer a platform that is available across the University to enable the design and delivery of programmes that will address the most challenging issues facing the development of novel therapeutic strategies, diagnostics and healthcare technologies both for the treatment of disease, as well as for assistive tools to mitigate against ageing and disability.
Chemical Intelligence
Establishing a new field of chemical intelligence and chemical robotics by defining the key fundamental science problems and by developing researchers equipped with the right skills to explore this emerging area of science. This research will couple chemical discovery, synthesis, and self-assembly using robotic systems driven by automation, sensors, and algorithms. One application of this theme is the development of innovative and sustainable manufacturing routes for new chemical technologies including pharmaceuticals.
Quantum and Nanotechnologies
Bringing together researchers in engineering and science and collaborating with end users in health, energy and security. This theme builds upon current investments, our outstanding industrial connectivity and the impact emerging from our innovation programme to position Glasgow as the go-to-place for research, development and innovation in quantum imaging and sensors globally. New imagining technologies for healthcare applications are a key strength of this group.
International Development
Bringing together researchers from across all four Colleges, this theme will tackle some of the most pressing poverty reduction challenges in low and middle income countries in the global south, with particular foci on onehealth, urbanisation, addressing inequalities, and water and environment.
Creative and Cultural Industries
Bringing together successful centres and groups across arts and social science, with strong connections to teams in Science and Engineering and MVLS this theme will work across the research hub, Kelvinhall and the new Arts building to create a powerhouse within the University of Glasgow's new Research Hub.
Over the autumn and into 2018, additional workshops will be held to further refine the thematic areas and research groups who are likely to use the Research Hub. Please look out for further updates highlighting opportunities for you to engage in this process.
Furthermore, we do not anticipate that the thematic areas which start off in the Research Hub will have a place in perpetuity. This will be a dynamic environment, allowing us the ability to be flexible and evolutionary as university structures change and research challenges evolve according to need.
We won't achieve our ambitions without talented, passionate and motivated staff and we won't attract or retain them unless we provide a world-class environment. Bringing our multidisciplinary talent together creates teams capable of tackling the most pressing challenges facing local and global society. Our physical environment must reflect our strategic vision.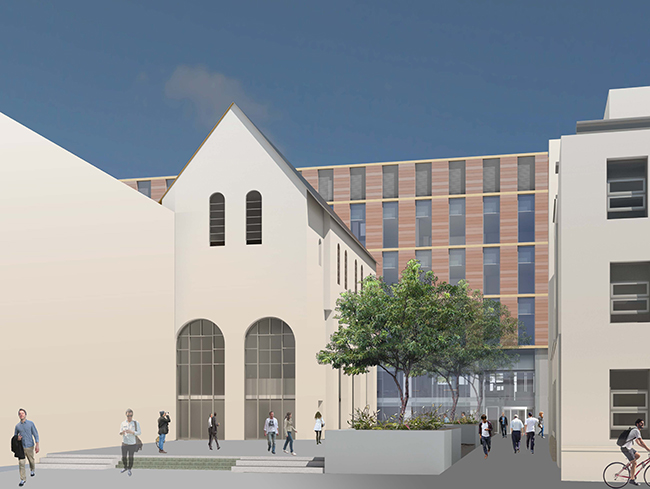 ---
First published: 31 August 2017