2016 Fashion show 'unleashed'
The search for fashion models is underway as the Glasgow University Charity Fashion Show team start to gear up for what we are calling Unleashed 2016 which will be in aid of the Teenage Cancer Trust, writes Katherine Raison, GUCFS.
The Glasgow University Charity Fashion Show is produced by a dedicated team of students in order to raise a charitable donation and awareness for our annually chosen charity. As a philanthropic entity, we run campaigns and events throughout the academic year which culminate with the main show in February. GUCFS combines innovation and skill with passion to produce an acclaimed event.
In 2015 we showcased the spirit of community and celebrated the creativity and desire within Glasgow. AfterDark 2015 displayed a unique range of local designers, supported the creative freedom of Frogbeats Collective and won an Exceptional Event Award. This year we are focusing on driving innovation and pushing the boundaries of organisation to further our philanthropic activities.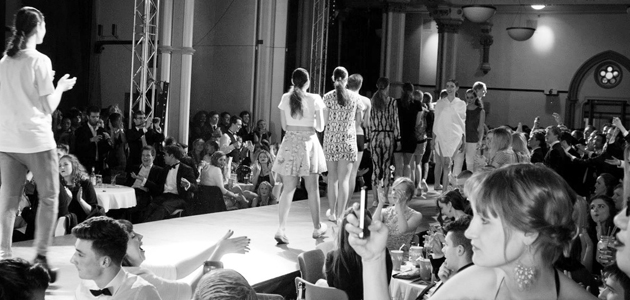 We are dedicated to championing the ideal of helping those less fortunate than ourselves whilst providing a platform for students to gain professional experience. For 2015-16 our mission is to unleash internal potential within our student body and portray the establishment of courage to innovate traditional frameworks.
Model Casting Sessions
Fashion Show casting sessions for Unleashed 2016 are taking place in the Williams Room, John Mcintyre Building (Welcome Point at the Main Gate) on Saturday 3 October 2015 from 11am - 4pm. Women should bring high heels...as should anyone else who wants to wear them.

Last year GUCFS sold out the world-renowned Glasgow University Hunter Halls on February 21st 2015 which was transformed into a sleek runway in aid of the Beatson Pebble Appeal. As a showcase of the spirit of community and creativity within Glasgow, GUCFS featured designers such as ten30, Arsalan, 21st Century Kilts, and 2014's Scotland Re: Designed New Talent Award winner, KellyDawn Riot.
Our mission this year is to unleash internal potential within the student body while raising money for a great cause: the Teenage Cancer Trust.
Please get involved!
Contact us at: secretary@gucfs.co.uk
---
First published: 29 September 2015