Sport extension and the new Hive near completion
After sixteen months of major construction work the replacement Hive nightclub for the Glasgow University Union, and the major sports extension to the Stevenson building, will be handed over from the contractors Heron Ltd later this week.
The culmination of this joint project will offer substantial benefits to both students and staff and the local community.
State of the art indoor sports facilities have been completed and the GUU will welcome the return of the Hive nightclub along including three additional café/bar spaces.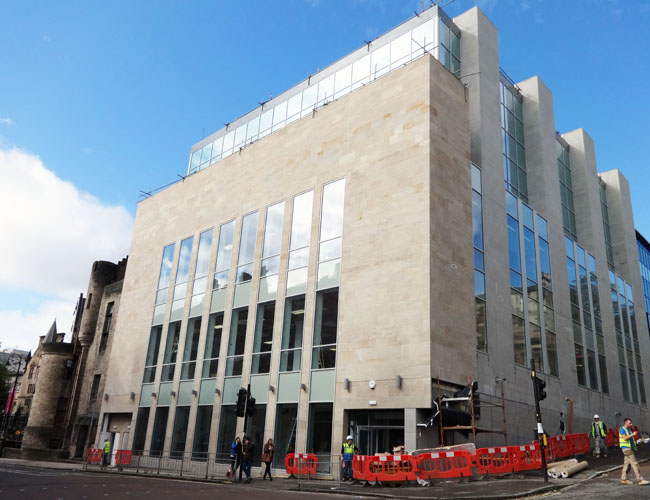 But what will this really mean for students and staff?
Campus E News asked the Rory Slater, President of the GUU and Grant Reilly, Marketing & Business Development Manager for University of Glasgow Sport to tell us what we might expect… and when the new facilities might be open for business.
Sport
Grant Reilly said, "The last 16 months have been an extremely exciting period for us. We want to inspire our students and staff through sport and are committed to empowering them by providing engaging opportunities (for all levels of ability) that enhances their experience and supports academic and sporting excellence.
"We have one of the largest student sport programmes in the UK that caters for over 15,000. Our student athletes and teams are proud to represent the University of Glasgow in sporting competition and our exclusive Nike #BlackAndGold clothing range is the talk of campus!.
"Our new £10m sport facility is expected to open late October 2015 and is the next step in our development.
"It will not only be one of the biggest performance gyms in the country but our gym experience is becoming more intuitive and intelligent! We're providing innovation in the way you enjoy the benefits of health and fitness. We have partnered with several of the biggest and best names in sports equipment to guarantee the very best user experience for our members.
"Our new facility links through the existing Stevenson building and is spread over four levels so there will be plenty of space and equipment to allow you to get involved."
Facilities
"PowerPlay will be the leading High Performance Strength and Conditioning facility in Scotland.ESP, are custom building 12 professional grade Olympic Power Racks, Lifting Platforms and highest grade lifting blocks for us.
"It will also include their world leading ground reaction force plate system STRENGTHsens, incorporating the camera diagnostic system ELITEFORM, allowing users to gain instant feedback and maximise performance.
"We are providing Eleiko training/competition plates, Eleiko competition bars, Ivanko dumbbells along with a comprehensive range of commercial grade resistance machines supplied by Matrix Fitness. Other innovative features include a plyo-strip, re-bound wall and custom built, ceiling mounted, functional training rig.
"Pulse is our cardiovascular and conditioning area featuring the latest treadmills, bikes, stair climbers, elliptical cross trainers and flex-striders are supplied by Life Fitness.
"All equipment comes with the innovative LF Connect Fitness App, designed to help you make the most of your gym visits as you:
Create your own personal workouts
Record outdoor activities via GPS
Track your progress
Share your workouts/ results with friends
Get ahead of the competition, personalise your gym experience and download the FREE LF Connect iPhone or Android app before we open.
"This will be complimented by a range of resistance machines and latest fitness accessories, Concept II rowers, indoor cycle bikes and dedicated stretching zones.
"Our Sports Hall will become the new home for indoor sport at Glasgow and will accommodate badminton, basketball, netball and volleyball athletes and teams as well as providing new activity space for recreational use.
"The fan experience for university sport will be better than ever before. Our FanZone will provide a free dedicated space for students, staff and alumni to come and support athletes and teams as they represent the #BlackAndGold of Glasgow.
"As soon as we open we will start refurbishing some of the older rooms in the Stevenson building. Phase 2 will open early 2016 and will include a new exercise studio, martial arts studio, indoor cycling studio and treatment rooms.
"For students staying in University owned accommodation membership is free. For all other students, annual membership equates to £8.33 per month (cheaper than all other local budget gyms). We even offer Semesterly access!
"Remember you are not just joining a gym but our exclusive University of Glasgow Sport community so make the most of your time at Glasgow!"
The GUU
GUU President Rory Slater said, "The opening of the new Hive marks the completion of a project that will bring huge benefits to the members of GUU and the wider Glasgow community. With four brand new purpose built bar/club spaces, Glasgow University Union will be put on the map with some of the best Union facilities in the whole of the UK.

‌"Hive will be the main dancefloor space complete with state of the art sound and lighting equipment, twelve metre long bar area and of course, a podium. Open every Thursday and Saturday night, the Hive will offer the students of Glasgow University a clubbing experience unrivalled in the City of Glasgow.
‌ "The Well is our second dance floor and live performance space which will provide the perfect venue for Music and Comedy. The Well has a truly industrial feel and large bar area to complement.
‌"Base Bar. The bar has been designed and sponsored by Jack Daniels and will feature booth seating and jukebox.
‌"Introducing G12, the glass fronted Café/Bar running along University Avenue. G12 will offer a unique environment completely different to anything on offer at GUU.
"With Starbucks Coffee served throughout the day from 8am in the morning and craft beers, ciders served until 11pm each night, this will be a relaxed environment in which to meet.
"This space will be open to Students, Staff and also the local community who we will be encouraging to use this space.
"The next month will be an incredibly exciting time for the students of Glasgow University as the project nears completion and approaches the grand opening. Students should keep a close eye on GUU's social media channels to be in with a chance of being there on the opening night."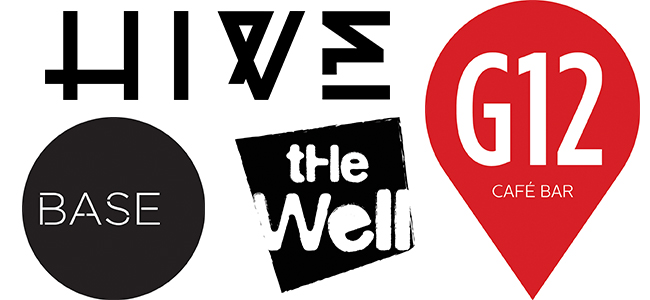 More to follow
Campus e-News will have previews inside each building in future issues.
---
First published: 22 September 2015