New University Strategy launched
The new University Strategy to take us to 2020 is currently being launched with copies going to every member of staff and launch events being held for colleagues next month.
The 37-page strategy document is the result of months of consultation and drafting, with the final draft being approved by University Court at the end of June. It sets a new path for the University of Glasgow, working on the progress made since the 2010 document - Glasgow 2020 - a global vision.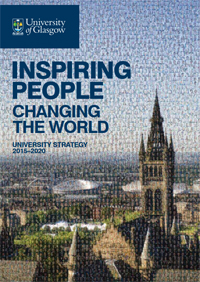 The new document is called simply: Inspiring People - Changing The World. The document's front cover - an image of the University Tower - is made up of more than a thousand minute selfie photographs submitted by staff during the latter stages of the consultation. In a message to staff, the Principal, Professor Anton Muscatelli, says:
"Since the release of our last strategy in 2010 we have gone from strength to strength: student satisfaction for both undergraduates and postgraduates is among the very best; we've been awarded the highest rating of confidence in last year's Enhancement-Led Institutional Review; our research order book has grown every year since 2010; we are in financial good health; and the result of the recent Research Excellence Framework exercise has shown that we are producing twice as much world-leading research as we were when we launched the last strategy.
"None of this collective success would have been possible without everyone's hard work and dedication in supporting our ambition to be counted among the very best universities in the world."
The new strategy puts people at the very heart of all the University does on the basis that it is inspiring people who drive success. The new strategy's vision statement reads:
To be a world-class, world-changing university.
Professor Neal Juster, Senior Vice-Principal, who led the strategy exercise, says in an interview with Campus e-News: "I was heartened by the level of engagement we got during the consultation process - it was fantastic. It's the fact that so many of our staff are so engaged with making the University of Glasgow a world changing - world leading university. They want to do everything they can to move us to that position."
Asked how the 'people-focus' of the strategy came into being, he said last year's Glasgow Commonwealth Games - and the Commonwealth Business Conference that was hosted on the Gilmorehill Campus - prompted a wave of positive feedback from Commonwealth leaders who commented on the deep level of engagement and commitment demonstrated by University staff. It also matched the 'People Make Glasgow' campaign that was so prominent during the Games.
Watch the interview with Neal Juster.
The new strategy sets out nine primary key performance indicators and a further thirteen secondary KPIs which will be used to assess the University of Glasgow's progress and performance as we move towards 2020. You can view all the key content from the strategy on the University Strategy 2015 - 2020 web pages:
When it comes to implementation of the strategy in the months and years ahead, key to the process will be three workstreams set up earlier this year, and made up of a wide variety of University staff. They are:
| Empowering People | Focus | Agility |
| --- | --- | --- |
| We want to be regarded among the very finest higher education institutions in the world. For that to happen, all staff need to have a sense of ownership of their role and a responsibility for working towards the fulfilment of our strategic vision. We will create a culture of empowerment and provide tailored opportunities for staff at all levels to ensure that the University's success is driven by everyone. | We are proudly broad-based, and we have expertise in almost every field of human endeavour. Achieving worldclass excellence requires us to be bolder about our strategic direction and commit greater investment in areas of research and teaching where we have the capability to lead the world. We will determine where these strengths lie and change the way we operate to align our resources with our strategy. | Research, innovation and enterprise are fast-moving fields of activity, and global tastes and trends in higher education can change overnight. We will streamline the way we work to ensure we are capable of keeping pace with the sea changes and emerging opportunities ahead. |
If you'd like to comment on the strategy, or suggest ways we can help deliver the strategy day-to-day, please email: strategy@glasgow.ac.uk
---
First published: 14 September 2015