Sleight of Hand, the Art of Writing Fiction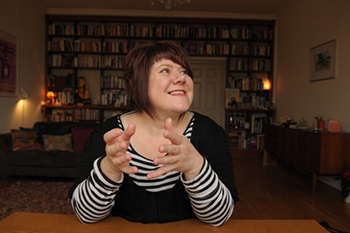 Event: Sleight of Hand, the Art of Writing Fiction.
Creative Writing Inaugural Lecture
Time: Tuesday 22 September 2015 at 6.30pm
Where: Sir Charles Wilson Lecture Theatre
‌Louise Welsh, newly appointed Professor of Creative Writing, explores her craft with reference to the depiction of creative writing courses in fiction.
Michel Houellebecq, Muriel Spark, Stephen King, Edmund White and Francine Prose are amongst the writers who have located novels within university creative writing programmes. Is a sub-genre of the campus novel emerging and does writing about creative writing have the potential to reveal anything about the art?
This is a free event, open to all. Please remember to register your attendance.
More information on acclaimed novelist Louise Welsh
Louise Welsh is the author of seven novels, most recently 'Death is a Welcome Guest' (John Murray, 2015). She has written many short stories and articles and is a regular radio broadcaster.
Louise has also written libretti for opera including 'Ghost Patrol' (2012, music by Stuart MacRae, a co-production between Scottish Opera and Music Theatre Wales) which won a Southbank Sky Arts Award and was shortlisted for an Olivier Award.
A new opera, 'The Devil Inside', by the same creative team, will premiere at the Theatre Royal, Glasgow in January 2016, before going on tour around the UK.
Louise was co-director (with Jude Barber) of 'The Empire Café' a cross-disciplinary Commonwealth Games 2014 project, exploring Scotland's relationship with the North Atlantic slave trade.
She is the Editor of 'Ghost, One Hundred Stories to Read with the Lights On' (Head of Zeus, 2015).
Louise was writer in residence for University of Glasgow and Glasgow School of Art 2010-2012.
She has received several awards and international fellowships, including an honorary doctor of arts from Edinburgh Napier University (2015) and an honorary fellowship on the University of Iowa's International Writing Program (2011).
To attend the Inaugural Lecture, register here.
---
First published: 7 September 2015