UofG, Japan and the Forth Rail Bridge
A film crew for a Japanese documentary series - The World Heritage - visited the University of Glasgow on 2 September, writes Racheal Egan, University of Glasgow Archives.
Their next programme will feature the story of Tokyo-born University graduate and talented engineer Kaichi Watanabe who helped build the Forth Rail Bridge.
The film crew started their day in the University Archives to discover the student records of Watanabe.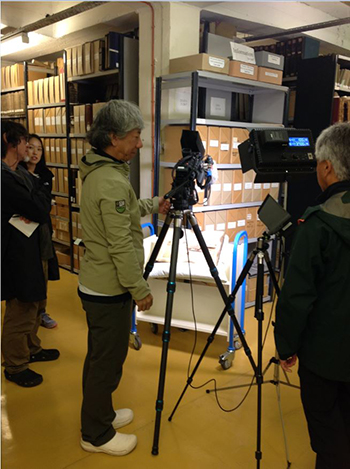 Watanabe graduated from the University BSc in Civil Engineering in 1886.
Born in Tokyo, Japan, in 1858, Watanabe was among the earliest Japanese engineers to study and work in the UK.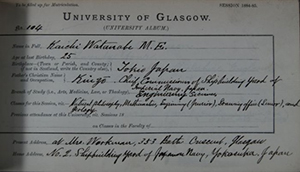 Collegues in the archive service showed the film crew records such as the matriculation slips filled out by Watanabe at the start of each academic year, entries for Watanabe in the Class Prize lists, and his signature in the Graduation Album for BSc degrees.
Watanabe came to the University of Glasgow in 1884 to study Engineering Sciences and he achieved very highly.
During his studies he won a number of class prizes including, in 1884, 1st place in Junior Class Civil Engineering and Mechanics and 1st equal place in Senior Class Office & Field Work Engineering.
He graduated 18th November 1886 and afterwards, was employed as a construction foreman during the building of the Forth Bridge, designed by Sir John Fowler and Sir Benjamin Baker.
You can view Watanabe's 'International Story' profile here for more information.
We were also able to show the film-crew some records of the Glasgow steel stock-holding company P & W MacLellan Ltd who, in 1883, won the contract to supply the steel 'approaches' for the Bridge. You can find out more about the company P & W MacLellan Ltd, steel stockholders, Glasgow on our on-line catalogue here.
Watanabe demonstrated the cantilever design of the Forth Bridge in 1887, an event that was captured in a famous photograph where he perches between Sir John Fowler and Sir Benjamin Baker, providing a human cantilever model and in 2007, this photograph was incorporated into the design of the £20 banknotes issued by Bank of Scotland to commemorate Watanabe, Fowler and Baker's contributions to Scottish bridge engineering and their work on the Forth Rail Bridge.
The film crew's next destination was the School of Engineering where they recreated the human cantilever bridge model with senior lecturers Dr Lukasz Kaczmarczyk and Dr Ameet Pinto.
In the middle is the director of the Japanese documentary series, Yusuke Amano.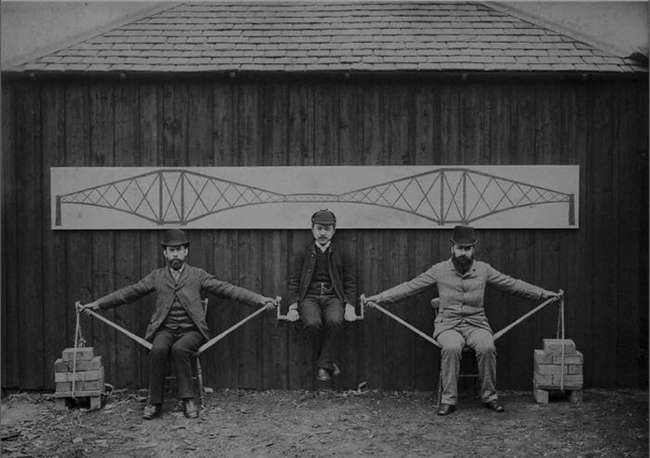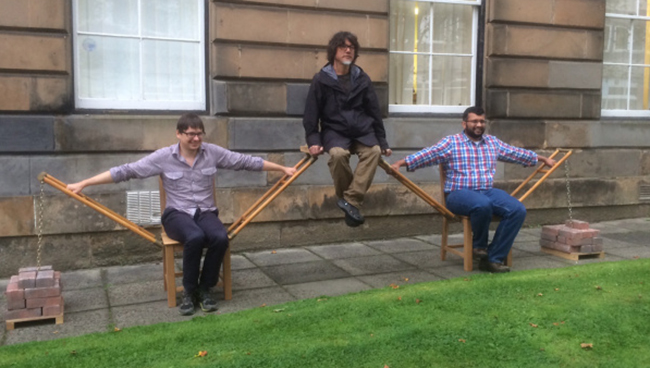 University teacher Linda Brown, from the School of Engineering, was interviewed for the documentary on various aspects of the engineering principles underlying the design of the Forth Bridge.
The programme will be broadcast by the TBS channel towards the end of the year.
If you would like to find out more about Kaichi Watanabe and his time at the University, please e-mail the Duty Archivist at: archives@glasgow.ac.uk
---
First published: 7 September 2015