Principal visits UESTC Joint School
A group of representatives from the University of Glasgow, led by Principal and Vice-Chancellor Professor Anton Muscatelli, visited the University of Electronic Science and Technology of China (UESTC) on 17 March.
The visit culminated with the Principal signing an agreement to seek to establish a Joint Educational Institute with UESTC.
The University of Glasgow has been in collaboration with UESTC since 2009.
Together the universities currently run a jointly-delivered course in Electronics and Electrical Engineering available at UESTC's Qingshuihe campus in Chengdu, the capital city of Sichuan province in south-west China.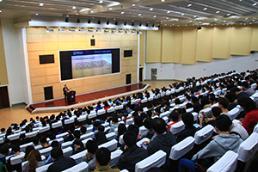 During the visit to UESTC, the Principal gave a lecture to 600 staff and students at the university on the subject "University of Glasgow: preparing students for global employment and citizenship".
The lecture was followed by a Q&A session which gave students the chance to ask questions directly of the Principal.
Students presented the Principal with gifts after the lecture and some students even asked him for his autograph.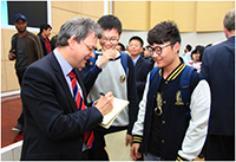 The group from the University of Glasgow also had the opportunity to tour the UofG-UESTC Joint School, visit the dormitories and meet students.
Professor Muscatelli said: "I have thoroughly enjoyed our visit and would like to express my gratitude to both staff and students for the warm welcome we have received here. UESTC is an important strategic partner of the University of Glasgow and we hope to build on our shared interests in both teaching and research in the future."
Cooperation
The President of UESTC, Professor Li Yanrong, said: "The collaboration with the University of Glasgow will facilitate the production of elite graduates with an international outlook. The joint engineering programme between the two universities is very successful and has been positively received across the whole of China."
Following the visit to UESTC the Glasgow delegation and representatives from UESTC visited the Chinese Ministry of Education on 19 March where they were welcomed by Professor Hao Ping, Vice Minister of Education.
Professor Hao said the Ministry encourages "cooperation in higher education between China and the UK."
During the visit Principal Muscatelli and President Li signed an agreement to establish a Joint Educational Institute. This will now be formally submitted to the Ministry of Education for approval, and if approved will open the doors to extending teaching and research collaboration between the universities into other disciplines.
The University of Glasgow delegation for the visit were: Professor Anton Muscatelli, Principal and Vice-Chancellor; Professor John Chapman, Vice-Principal Emeritus; Professor John Marsh, Head of the School of Engineering; and Dr Huabing Yin, Senior Lecturer, Biomedical Engineering.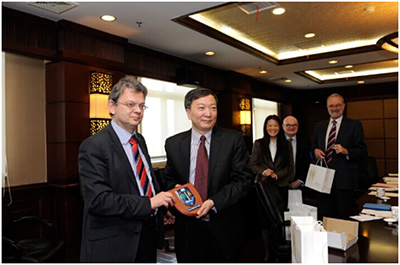 ---
First published: 25 March 2015