Top award for Singapore 'flapper'
There is yet another aerial success to report for the University of Glasgow Singapore - Singapore Institute of Technology, this time with a small aircraft that mimics the flapping and flying motion of a bird!
The UGS-SIT flapping wing team "Fly Kite" has won the silver award in the best free-style flying demonstration in Category E in this year's Singapore Amazing Flying Machine competition.
The students received their medals in the SAFMC 2015 closing ceremony Singapore Science Center.
You can watch their extraordinary creation on this You Tube clip:
Dr Sutthiphong "Spot" Srigrarom, Associate Professor, Aerospace Systems, University of Glasgow Singapore, said: "Although it is the silver (1st runner-up) award, it is the second best among more than twenty teams in Category E (Open).
"Therefore this is a great achievement and it showcases our capability. "Once again, please join me congratulate and celebrate with these students:
Matthew Ng Rongfa, Alvin Ng Yong Sheng, Anthony Huang Hanwei, Lee Wei Jie, Ivan, Wee Zi Yun."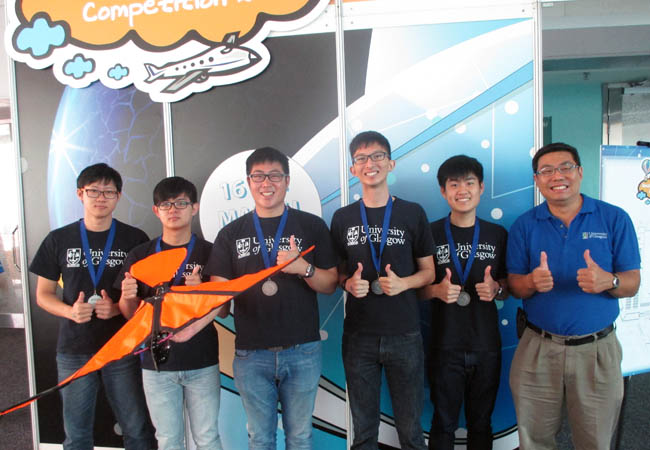 ---
First published: 23 March 2015