Kaplan increases Nigerian engagement
As part of an initiative by Kaplan Nigeria to expand its network of key target Secondary Schools, the company has partnered with one of Nigeria's most competitive private secondary schools (Lagoon Secondary School) to sponsor a capacity building teachers training session for schools in Lagos.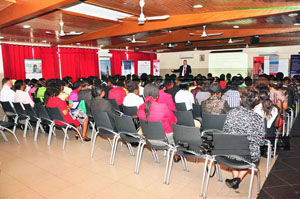 The inaugural event took place on 4 February and the University of Glasgow's International Officer (West Africa), Kemi Odesola, was in attendance. More than 88 high school counsellors attended the session, from both private and community schools, taking advantage of this unique training opportunity. Community schools were also invited as part of Kaplan's commitment to corporate social responsibility and improving educational attainment across Nigeria.
Kaplan have invited expressions of interest from staff at the University of Glasgow who may be interested in participating in facilitating future sessions on subjects such as inclusive learning, educational leadership, curriculum development.
For further information please contact: Katy Scott, International Officer Africa and Middle East.
---
First published: 2 March 2015