Latha na Gàidhlig - Gaelic Language Day
6 March 2015
The University will be hosting it's third Gaelic Language Day next week which will see a wide-range of events and campaigns taking place across the campus and online to celebrate Gaelic language and culture. Full details of events below!
Free Lunchtime Concert with Darren MacLean & Laura-Beth Salter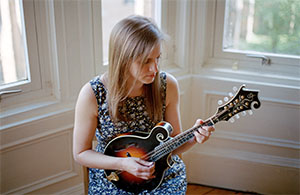 Darren MacLean (National Mòd Gold Medalist & Traditional Gold Medalist) and Laura-Beth Salter(The Shee, Shooglenifty & Dougie MacLean Big Band 'The MacLean Project) first collaborated together back in 2014 at a special Ceòl is Craic concert as part of Glasgow's Americana Festival.
They are both highly regarded solo singers in their own right but were brought together to explore their respective disciplines of Gaelic and Blues / Oldtime & Bluegrass song.
We are delighted that they will be showcasing their collaboration as part of our Gaelic Language Day; a real treat for staff and students and it's free!
Darren and Laura-Beth will be joined by Barry Reid (Guitar) of the infamous Treacherous Orchestra.
University Gift Shop Launches Gaelic Merchandise
‌The University Gift Shop will for the first time be selling official university merchandise in Gaelic as part of Gaelic Language Day celebrations. If you would like a hoodie or a t-shirt displaying the University logo in Gaelic, pop along to the gift shop on Friday 6th March and treat yourself!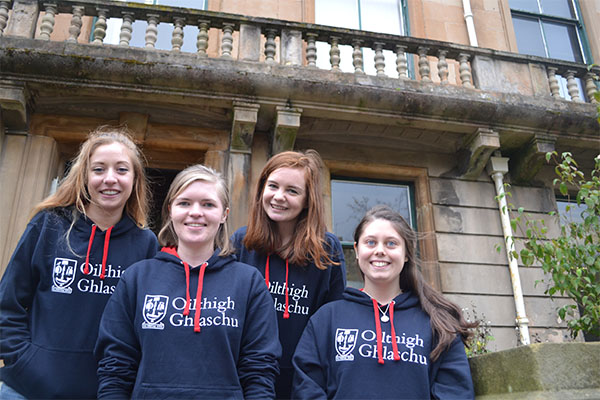 Clàr-ama an Latha | Timetable of Events
Time
Event
Venue
1030 - 1200
Blasad Gàidhlig, Bòrd Fiosrachaidh agus Ceòl Beò
Come along and try some Gaelic phrases, pick up information on Gaelic courses being offered by the University's Centre for Open Studies and enjoy some live traditional music.
Togalach Fhriseil/ Fraser Building
1315 - 1400
Cuirm-ciùil le Darren MacIlleathain & Laura-Beth Salter
Come along and enjoy this free concert with two of Scotland's most renowned traditional singers as they combine the musical genres of Gaelic, Blues, Oldtime and Bluegrass.
Jim's Bar, Aonadh na Banrigh Mairead/ Queen Margaret Union
1400 - 1600
Coinneamh Phoblach le MG ALBA
Do you watch BBC ALBA, the Gaelic TV channel? Would you like to hear more about it or put forward your own thoughts and opinions on Gaelic broadcasting? Come along to this public meeting and take part in a lively discussion with representatives from MG ALBA and enjoy a free tea or coffee!
Seòmar 203, Roinn na Ceiltis is na Gàidhlig, 3 Gàrraidhean an Oilthighe/
Room 203, Celtic and Gaelic, 3 University Gardens
1600 - 1700
Farpais-cheist Gàidhlig
A Gaelic pub quiz! Perfect for a Friday afternoon. Don't worry if you don't speak Gaelic, we'll pair you up with Gaelic speakers.
The Beer Bar, Aonadh Oilthigh Ghlaschu/ Glasgow University Union
2000- Anmoch
Taigh-cèilidh Traidiseanta le Taigh na Gàidhlig
You don't need to worry about knowing the steps to the Gay Gordons for this cèilidh! The students of the University's Gaelic Language Residency Scheme (Taigh na Gàidhlig) are hosting a traditional house cèilidh where the emphasis will be on songs, tunes and stories. Come along for an insight into a real cèilidh!
Rèidhlean-bhall Partaig (Rathad Partickhill)/
Partickhill Bowling Green Pavillion (Partickhill Road)
Find out ways to support Gaelic Language Day on social media.
---
First published: 26 February 2015