Jack Asher 1927 - 2015
Published: 29 June 2015
Many tributes have been paid to Jack Asher, an alumnus and legendary former shinty player, referee and administrator.
by Hugh Dan MacLennan
Any account of the life of Jack Asher is one of unparalleled commitment and devotion to shinty, his family and his profession as a teacher of history at Crookston Castle Secondary School in Glasgow.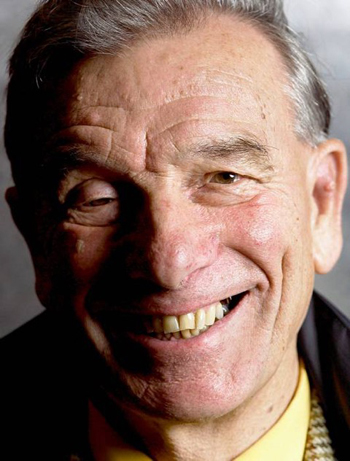 Born in 1927, a native of the city, Jack was educated at Nethy Bridge Primary School and Grantown on Spey Secondary schools, before going on to the University of Glasgow.
It is for his outstanding service to refereeing that Jack will be remembered most by the shinty community, but he also served the game significantly as an administrator and was a huge supporter of the burgeoning women's game. He was one of the game's most recognised figures and most welcome of guests far and wide for over half a century.
A member of the Glasgow Celtic Society for over 50 years, he was President of that august body for 20 years and Chief for the last 17 years. He was a member of the Future of Shinty Committee that reorganised the administration of the sport in 1980 and was also a founder member and Vice Chair of Shinty Referee's Association for a number of years.
Air gun accident
He was a man who made light of significant disabilities to reach the pinnacle of the sport as a match official, refereeing three Camanachd Cup Finals, the last of which was at the age of 64. He officiated for at least another six years before time took its inevitable toll. All this having lost an eye to an air gun accident at the age of 12 and having overcome the loss of a lung thereafter.
Jack was a great all-round sportsman and a Double Blue of his beloved Glasgow University, for Shinty and Judo, which many of the shinty players who thought they could win and argument with him would have done well to remember. He was a staunch supporter of the University club, its pitch at Garscadden and all its activities. The club honoured him as their Honorary President (as a player he captained the side and won two Littlejohn Trophy medals) with a special testimonial match in 2008, presenting him with a gold and silver mounted caman (a significant notch up from the traditional silver version). The esteem with which he was held at club level was reflected by the fact that tributes and a presentation were also made by the Kyles Athletic club on that day at Garscube.
A founder member of the now defunct Glasgow Kelvin, which was set up to give former university students a means of continuing with the game, Jack was presented with the Marine Harvest Award Centenary Award for shinty in 1999 for his outstanding contribution to the game. In a lifetime of devotion to the sport he had a long and creditable playing career, was hugely involved in schools shinty supporting Woodside secondary with supply of camans and then played a massive role in the game as an administrator. As a player he was said to be "efficient and capable, with an exceptional turn of speed." He captained the Glasgow Inverness and Glasgow select sides in his day. He was also custodian of one of shinty's most interesting trophies, the Skeabost Horn.
Passion and forward thinking
Jack Asher contributed immeasurably to the health and well-being of shinty in Scotland, whilst his own placed him under immense pressure at various times but he always found a way to contribute, even to the extent of officiating as a goal-judge and referee assessor at all sorts of matches in venues throughout the south of Scotland in particular. He had taken charge of most of the great occasions including the Celtic, Camanachd, Macaulay and Sutherland cup finals. A great hill-walker and recorder of events with his camera, Jack was a superb conversationalist and in many ways a man ahead of his time. He had a wonderful ability to state his case and was unfailingly courteous in addressing criticism or a contrary view, as long as it was constructive. He had an even greater ability to ignore destructive criticism and negativity, playing the long game to his advantage.
Willing and obliging to a fault, a colleague once offered three key hallmarks of his life and demeanour – integrity, character and dedication. To that could be added passion and forward thinking. Failing health in his latter years had prevented the elongation of his astonishing record of attendance at major matches and his kenspeckle figure will be sorely missed the length and breadth of Scotland.
The sympathy of the whole shinty community is extended to the family at this sad time.
A minute's silence was observed before the weekend's Glasgow Celtic Society Cup Final at Taynuilt as a mark of respect for his passing.
---
First published: 29 June 2015