David Anderson - a tribute
Tributes have been paid to David Anderson, a General Council Assessor on the University Court and Chair of the University's Human Resources Committee who died last week.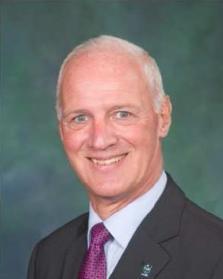 Christine Barr, Director of Human Resources, said: "David was a terrific ambassador for the University. He presided over the HR Committee for seven years providing tremendous support and stewardship in human resources related affairs and was a significant voice for the function on the University Court until his premature death.
"He played a key role in delivering on many of our department's challenges in recent years, helping to make the university a better place for all colleagues and ensuring that our ambitions were always at the forefront.
"He was highly engaging and passionate about the work that he carried out in HR – and above all else he was extremely approachable, accessible and a key 'critical friend' to myself and my colleagues, both past and present.

"David spent his entire career in human resources and his expertise, wise counsel and sage advice will always be appreciated and warmly remembered; it's a huge loss."
"Accomplished and effective"
David Ross, Convener of Court, sad: "David was a very accomplished and effective governor and, over the last 7 years, made a tremendous contribution to the work of the University.
"During David's time on the HR Committee, he oversaw the modernisation of our HR procedures and the introduction of the current People & Organisational Development Strategy. In addition he undertook a wide range of other University commitments ranging from the chairmanship of the University's Pensions Trustees and Chairmanship of Remuneration Committee to the Modern Languages review in 2010/2011 in which he was keenly interested as a considerable linguist.
"Throughout his time on the Business Committee, and then while on Court, David was a candid friend of the University, willingly giving his time and considerable expertise to bear on the challenges, when necessary questioning but above all always very supportive of the University. He will be sadly missed and our thoughts are with his parents and family at this time."
David Anderson studied Philosophy as a student at the University of Glasgow. Thereafter he followed a career leading to senior positions in HR, principally in the chemical industry at home and abroad. He joined Court as General Council Assessor in July 2008 rapidly becoming a member of Court and the HR Committee of which he became Convenor in 2010.
---
First published: 15 June 2015