UofG's Commemoration Day
by Rachael Egan, Heritage Engagement Officer, University of Glasgow Library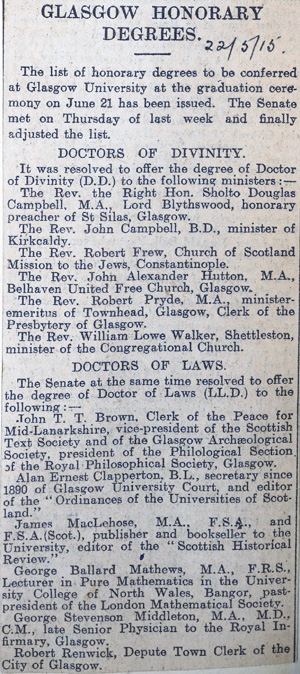 Commemoration Day, this year taking place at the University on Wednesday 17th June, is an annual celebration of the foundation of the University in 1451 thanks to the many benefactors whose gifts have supported the development of the University.
The events of the day comprise of a service for the Commemoration of Benefactors in the University Chapel; the conferring of honorary degrees by the Chancellor; and the Commemoration Day lunch.
The current form of celebrations has been followed for over a century but its roots go back to the annual May banquet held first in 1492 at which was born the toast "Resurgat in Gloria Alma Mater".
To celebrate Commemoration Day and the beginning of the summer graduation period at the University of Glasgow, we have uploaded profiles for the 484 people who received degrees one hundred years ago, in 1915, onto our University Story website that you can discover here.
The 1915 graduates join the rest of the University of Glasgow graduates to create a total of over 19,000 profiles you can view on the University of Glasgow website.
Commemoration became an official event in the late seventeenth century and in 1903, the General Council urged an annual Commemoration day on the day following the annual graduation, "in order to maintain the connection of the graduates with their University".
Great War
The first was held in April 1904, though in 1915 there was no Commemoration Day ceremony. Commemoration Day did not take place during the years of the Great War and the celebration was not reinstated until 1920. The date of Commemoration moved to June and separated from the ordinary graduations in 1924 and now Commemoration Day also remembers those whose names are recorded on the Memorial Panels in the University Chapel – our First and Second World War Rolls of Honour.
Find out more about how the University is commemorating the First World War over the centenary years on our University of Glasgow Great War Project webpage and blog.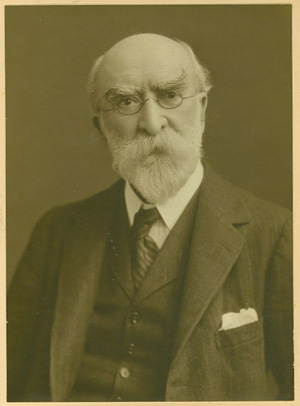 While there was no Commemoration Day in 1915, honorary degrees were still awarded on 21st June 1915. Among those who received honorary degrees one hundred years ago were James John MacLehose, second son of James MacLehose: bookseller and publisher to the University.
James John MacLehose was awarded an LLD in 1915. He first graduated from the University MA 1878 and followed in his father's footsteps, also becoming bookseller and publisher to the University. He was also editor of the Scottish Historical Review.
Dr George Steven Middleton was also awarded an honorary LLD in 1915. George Middleton graduated from the University MBCM 1876 and MD 1884. He was one of the first resident staff of the Western Infirmary and was assistant Professor of Practice of Medicine in the University from 1881-92.
Happy Commemoration Day and congratulations to today's honorary graduates. Stay tuned over the summer graduation period when we will be celebrating the class of 2015 by looking back at their 1915 forebears!
---
First published: 15 June 2015