Micro Businesses donate profit to Beatson
Students from the Adam Smith Business School handed over a cheque for £1,479.33 to the Beatson Cancer Charity at an official presentation on 9 June.
The students were taking part in the Business Start-Up course; which ran for the first time this year for Business and Management Honours students.
A key part of the course required students to work in small groups and start micro-businesses. All the profits made from trading activity were donated to charity.
Catriona Henderson, a Senior Honours Student in Business and Management officially handed the cheque to Amy Dreszler from the Beatson Cancer Charity.
Catriona was part of the 'Painters in Arms' business team which ran a decorating service for the project.
There were twelve businesses in total ranging from a gin tasting experience, FIFA tournaments and businesses selling candles and woollen accessories.
ASBS academics Dr Jillian Gordon and Professor Colin Mason who ran the course explained that "The course is based on the view that you can't teach someone to be an entrepreneur through lectures. There has to be an experiential component".
Both are delighted with the overall learning experience gained by the students and with the financial contribution to the Beatson Charity.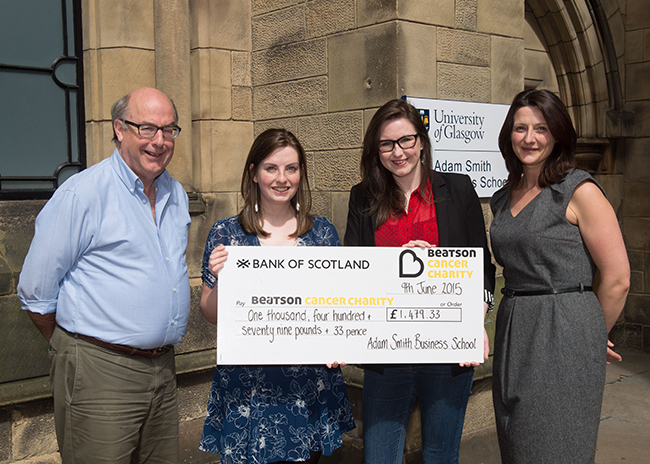 ---
First published: 9 June 2015