Mad Molars and their Princess triumph
The Dental School's Mad Molars have arrived in Monte Carlo on board their 38 year-old Leyland Princess...and look like reaching their fund-raising target of £10,000 for the school.
A post on the Mad Molars Facebook page this morning read: "After a fairly brief sleep, The Mad Molars were up bright and early to tidy and polish the Princess for her grand arrival in Monte Carlo."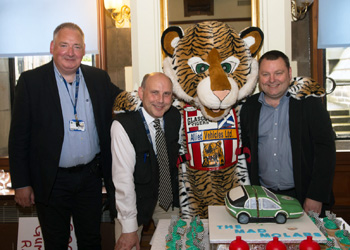 The 'Mad Molars' are:
Jeremy Bagg, Head of the Dental School
Neil Campbell, Director of Campus Services
Ronnie Ford, Transport Services Manager
They set off on their 2000+ miles journey a week ago, heading off through England and across the Channel. There was a pre-rally reception on campus, attended by the Principal, at which scores of well-wishers toasted their determination.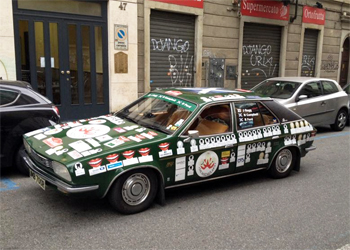 The rally involves buying a car for under £300 and driving from the city of Saint Quentin to Monte Carlo via Dijon, Geneva and Turin. The team has acquired a 1977 Leyland Princess for the event and even have the backing of the engineer who designed the car back in the 1970s. The teams take part in daily challenges en route and the rally ends with an awards presentation on the final night in Nice.
The Mad Molars are raising money for Glasgow Dental School as part of an on-going appeal for £300K to develop a new Dental Technology Teaching Suite.
Donate through their JustGiving page.
Keep up with their adventures on Facebook

---
First published: 21 July 2015