New University Librarian 'delighted'
Published: 13 July 2015
Susan Ashworth, who takes over shortly as University Librarian, has spoken of her 'dedicated and talented' colleagues.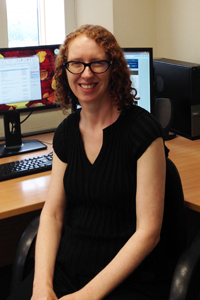 Susan Ashworth, who has been appointed as the University's new Librarian, has spoken of her delight at taking on the role. She will succeed Helen Durndall from the start of August.
Susan has worked in the University Library for a number of years holding a variety of roles, including Head of Circulation, Subject Librarian for a range of science and biomedical subjects, and most recently, Deputy Director, with particular responsibility for the Library's support for research and learning and teaching.
She is leading the development of new services within the University to support researchers as they engage with open access and research data management. Susan has been very involved in developing new study space within the Library and is working closely with Estates and Buildings on the current redevelopment of the Library entrance and Levels 1 and 2.
'Dedicated and talented colleagues'
Susan said: 'I am delighted to have been appointed University Librarian, and to have the opportunity to work with dedicated and talented colleagues in the Library as we continue to deliver excellent Library Services for staff and students across the University'
Helen Durndell is joining the Board of the National Library of Scotland, regarded as one of the world's leading research libraries.
---
First published: 13 July 2015