Be part of European Researchers' Night
All across Europe on the last Friday in September the EU celebrates research and researchers with huge public engagement events, writes Jamie Gallagher, Public Engagement Officer.
The University of Glasgow will join the party as we showcase our work to the wider community inviting people to get up close and hands on with our world leading research.
‌Explorathon
Explorathon: European Researchers' Night will be held in Glasgow on Friday 25 September 2015.
This year's event will include a research ceildh, public lectures and a complete takeover of Glasgow Science Centre for the night with free entry to the public.
Why?
The goal is to share our enthusiasm and our work. To show how relevant and exciting research can be. It is the chance for the people of Scotland to learn about the world leading research happening in our University.
Get involved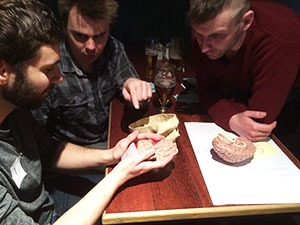 We are looking for researchers from all areas- history, art, social science and physical science- all Schools and Institutes are welcome and encouraged to apply.
There are opportunities to host research stations, give talks, have a go at stand-up comedy or help to organise an event.
Last year we had activities lead by undergraduates through to professorial level with 19 Schools showcasing their work.
For full details of opportunities to be involved, please visit Be part of: Explorathon '15.
Or submit your Explorathon proposal.
Deadline for proposals is 10 August 2015.
Any questions? Email: Jamie.Gallagher@glasgow.ac.uk
---
First published: 21 July 2015