Face Facts at the Royal Society Exhibition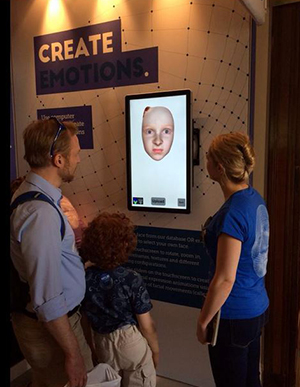 A team from the Institute of Neuroscience & Psychology at the University of Glasgow has presented an exhibit called 'Face Facts' about facial expressions at the Royal Society Summer Science Exhibition.
The Royal Society Exhibition was held in London from 30 June – 5 July.
Face Facts was one of the top three exhibits and the University of Glasgow was the only Scottish university to present at the exhibition.
The Summer Science Exhibition is an annual display of the most exciting cutting-edge science and technology in the UK.
This week-long festival features 22 exhibits from the forefront of innovation.
The Face Facts exhibit used computer-graphic techniques to reveal that people from different cultures interpret facial expressions differently.
Dr Lisa Debruine was interviewed on London Live about the exhibition.
---
First published: 6 July 2015