Award success for Scotlit PhD researcher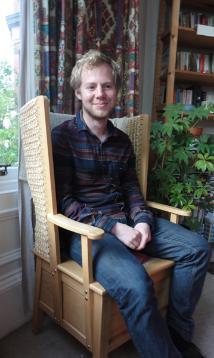 A Scottish Literature PhD research student at the University of Glasgow has been awarded the Eric Gregory Award worth £4,500 and has been shortlisted for the Edwin Morgan Award.
Eric Gregory Award
Stewart Sanderson is a third year PhD student in the School of Critical Studies, working on translation and modern Scottish poetry. He is also a widely published poet whose work regularly appears in prominent literary magazines.
The 2015 Eric Gregory Awards were presented to five poets under thirty including Stewart at the Authors' Awards, held in London on the 25 of June. Stewart is only the second Scot to win the annual award in the past twenty years.
The Eric Gregory Awards were founded in 1960 by the late Dr Eric Gregory for the encouragement of young poets.
Stewart was chosen as a winner for the manuscript of Fios, a pamphlet collection of poems soon to be published by Tapsalteerie Press.
Stewart said: "I'm delighted my work gave the judges enough pleasure for them to want to honour it in this way. It was a wonderful surprise to win an Eric Gregory Award less than a year after finding myself on the Edwin Morgan shortlist."
"At times the mythic scope of this collection, Fios, took my breath away."
One of the judges, Denise Riley wrote: "This is sharply attentive writing which stays highly attuned to its own habit of close listening, and is always reflectively aware of that fine margin between what it calls 'the beautiful and bland'."
Another judge, Daljit Nagra wrote that "At times the mythic scope of this collection, Fios, took my breath away."
Past winners of this prestigious award have gone on to have successful careers in poetry. Notable previous winners include: Seamus Heaney, Geoffrey Hill, Jackie Kay and Kathleen Jamie.
On the 10July Stewart will be reading some of his work alongside the other 2015 winners at the Ledbury Poetry Festival.
Edwin Morgan Poetry Award
Last year Stewart was shortlisted for the £20,000 Edwin Morgan Poetry Award.
This award was established in 2012 to carry forward the wishes of the Scottish poet laureate, Edwin Morgan (1920–2010) who wanted to found a new award for young Scottish poets.
The University of Glasgow was further represented by Creative Writing PhD student Molly Vogel who was also shortlisted for the prize.
---
First published: 6 July 2015