Change of title for Vice-Principal
Published: 6 July 2015
Professor Frank Coton is to have his Vice-Principal role enhanced to include the University's IT strategy.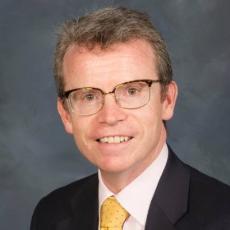 Professor Frank Coton is to have his Vice-Principal role enhanced to include the University's Information Technology strategy.
The Principal reported to the recent meeting of Court that Professor Coton's portfolio would be broadened to include an overview of the University's IT Strategy, and he would take over as Chair of the Information Strategy and Policy Committee.
In recognition of this wider role Professor Coton's title would move to Vice-Principal (Academic and Educational Innovation) with immediate effect.
Professor Anton Muscatelli said "Our IT strategy is key to all that we do in the University - research, teaching and learning, operationally, and in support of all our services.
"It's a fast moving, fast changing environment. I am delighted that Frank has agreed to take an overview of this area on behalf of SMG. This responsibility also fits well with Frank's co-chairing of the Agility work stream in the new University strategy, as many of our key processes rely on the delivery of an effective underpinning IT infrastructure.
"Frank has built up considerable experience of working across various IT functions - covering support services and most recently the L&T environment, and so has a tremendous grasp of what's needed not only to keep pace with our competitors but more importantly to deliver systems that work for our community as a whole."
Professor Frank Coton said "I am delighted to be taking on this additional responsibility at a time when this university has set such an ambitious agenda for its future. Our current work on the new Learning and Teaching Hub underlines for me how central IT will be in supporting the student experience and our research aspirations in and beyond our expanded campus."
Professor Coton will continue to cover his previous duties with oversight of Learning and Teaching, liaising with the Deans of L&T in each of our Colleges.
---
First published: 6 July 2015