Scotland Handbook launches
The University's HR team have been working with nine other partner universities to create the recently launched Scotland Handbook. Fronted by the University of Glasgow, The Scotland Handbook is a publication that has been designed to support the international talent acquisition efforts of Scottish Higher Education Institutions.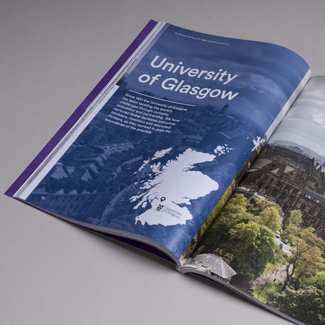 The handbook is a useful resource for prospective and new international staff who are considering making the move to come and work in Scotland. It features sections that are filled with information covering everyday life in Scotland. such as; opening a bank account, registering for healthcare, support for families, schools and nurseries, our culture, and our geography.
In addition to this, each of Scotland's Higher Education Institutions has their own section to sell their university as an employer. These sections have been designed in order to market the institutions, and help to inform the decision making of potential international employees who are being approached with an invitation to apply for a role.
Various departments throughout the university have been issuing copies of the handbook to prospective international staff, and they have been well received both by our international academic visitors, and by our new international recruits alike.
The Handbook has recently been printed and published, and is available online as an e-magazine. See it here: http://fliphtml5.com/bhea/mdby/
For further information, or copies of the Scotland handbook, please contact Suzie Harbison, HR Communication & Marketing Co-ordinator: Suzie.Harbison@glasgow.ac.uk.
---
First published: 6 July 2015