Maths team honoured
Published: 5 July 2015
Maths Level 2 team presented with their excellence awards.
The recent Teaching Excellence group award winners, the Mathematics Level 2 Team, were presented with their awards last week. In all there are 15 members of this team, five were able to attend the graduation ceremony.
In their citation, former SRC VP for Education and maths student Cal Davies, was quoted: 'Through their use of innovative and modern assessment practices along with rapid feedback through the scanned feedback sheets; the team has ensured that we are all working a lot more outside of class and that work is genuinely productive and helpful.'
The full team behind Maths Level 2:
Academic staff: Tara Brendle, Christina Cobbold, Anne Thomas, Steve Roper, Liam Watson, Stuart White, Misha Feigin, Andrew Wilson, Peter Stewart, Liam Dickson.
IT staff: Daniel McAllister, Dave Thom and Gordon Richie
Office Staff: Margaret Macmillan, Kathleen Mosson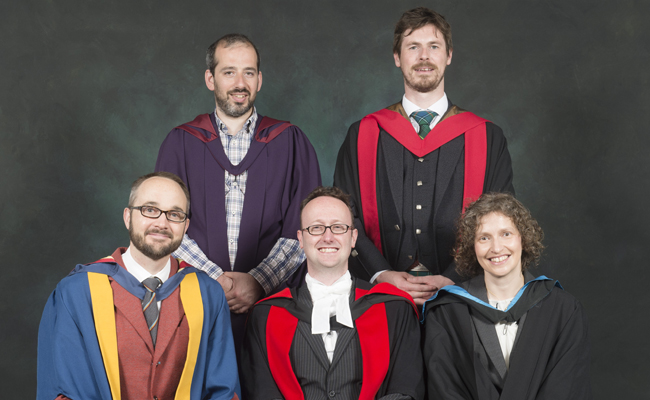 ---
First published: 5 July 2015