Meet our Inspiring People
You could forgive the modest Dr Zhibin Yu for thinking he's the right lecturer in the right university at the right time.
Zhibin is a lecturer in energy engineering and a member of the Systems, Power & Energy Research Division within the School of Engineering. He finds himself at the centre of one of the largest campus remodelling projects in recent UK history, as the University of Glasgow sizes up the challenges of taking back the Western Infirmary site and tries to set the standard for an energy efficient and carbon neutral estate.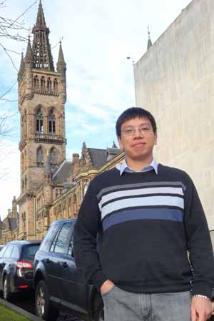 Zhibin's unique part in this project is to take on a placement to work with Crown House Technologies, the University's partner in the installation of a district heating scheme. He will devote one day per week to the initiative, facilitated by Estates and Buildings. "It is a wonderful opportunity," he says.
Work on the district heating scheme is just getting underway and evidence of the scale of the excavations required will soon become clear on the Gilmorehill campus.
The story of Zhibin's involvement began nearly two years ago. He explains: "I first heard about the University's plan to install a Campus-wide district heating system in the middle of 2013.
"As one of my research interests is heat pump technology, I realised that this would be an interesting opportunity to contribute to this exciting project as an academic. In the summer of 2013, I established a collaboration with Star Refrigeration, a Glasgow based, world-leading expert in heat pump technologies, on renewable heating technologies."
Zhibin continues: "In collaboration with Star, I organised an industrial seminar on renewable heating which attracted considerable industrial interest. Colleagues from Estates and Building also attended this event. Working with Star, two MEng final year projects on the subject "heating the University campus with river sourced heat pump" were launched at the seminar."
Estates and Buildings strongly supported these two projects through supplying metering data of gas and electricity consumptions. The two projects later won the "Runner up Prize" of best student paper at the 3rd International Conference on Sustainability and the Cold Chain in June last year.
The two MEng ventures led to a scheme to draw water from the River Kelvin as a source of heating the campus. This has the potential to reduce the heating bill by one quarter. Last year it won funding for a first phase from the Scottish Government. (See details here.)
Smart Campus
Zhibin says his placement with the wider District Heating Scheme project is aimed at ensuring the teaching and research benefit from this works will be maximised and realised.
He says: "My job therefore has three elements:
Gather and collate all the technical details produced during the design, construction, and commissioning, and then generate research projects for final years students in the area of energy, mechanical, civil, and electrical engineering.
To gather the requirements from academic colleagues, produce reports and feedback to the design team to ensure the necessary sensors, connections, and software interface will be realised from the early design stage, so that the teaching and research benefits will be realised for the long term.
To liaise with colleagues cross the School of Engineering, the College and even the far wider University community; and to coordinate site visits during the project if required."
It is possible that Zhibin will be able to produce an academic publication from the project, but that he says is not the main purpose of his involvement: "The main driving force is teaching and the research benefit from this project."
Paul Younger, the Rankine Chair of Engineering and Professor of Energy Engineering is a project board member of University's CHP project. He said: "Zhibin's placement on the University's Combined Heat and Power project will ensure that academic input to the system design is fully realised. This will, in effect, be the first concrete case of an academic helping to turn the campus into a research lab. This is the core notion of the Smart Campus concept."
Family
Zhibin arrived in Glasgow in September 2012. Previously he'd worked at the Universities of Manchester and Leicester.
He comes from a small town in Hunan province in the South-Central part of mainland China. His mother and father and brother still live there. Zhibin looks back and says: "My home town is very famous for its spice cuisine! Since I was a child, I was always fascinated by all kinds of machines and was curious about how they work. I guess such a passion led me to do an undergraduate degree in engineering, and thereafter to pursue a PhD in energy engineering. Over the years, my interests in engineering and commitment to developing more efficient energy systems led me to devote all my time to energy research."
He now lives with his wife and two young daughters on the south side of Glasgow. His daughters, he says with a grin, are developing very fine Glasgow accents!
He recalls vividly his arrival in the city for his interview at the University of Glasgow. "I arrived that day very late and I arrived at Gilmorehill the next morning for the interview. It was only after I had made my presentation that I really saw the Main Building for the first time. And I was SO impressed! I remember thinking 'Wow! If I could work here it would be fantastic.'"
"But that is just one part of what inspires me here. I am a research academic in the field of energy...especially thermodynamics, that is my research area. Glasgow is probably at the centre of the stage in the history of thermodynamics. We have Lord Kelvin, we have James Watt. There is a list of glorious people who have contributed to this field of research. I couldn't find anywhere else in the world that is so exciting! I really enjoy my job here and I really enjoy working for the School."
Quick Questions
What do you like to do when you're not at work?
Spend time with my family, play tennis, and reading.
If you could have any superpower what would it be? Why?
To be able to get around the second law of thermodynamics so that more efficient engines can be built giving us more energy security and less environmental problems.
What's your favourite place in the world?
My favourite place in the world is certainly my hometown in the south of China where I was born and grew up before I went to university. I miss it so much, especially its spice food.
Who inspires you at the University of Glasgow?
My colleague Professor Paul Younger. His interdisciplinary thinking on energy continuously inspires me to take adventures in this research area.
---
First published: 16 February 2015