UofG student 'socks it to them' at film awards
University of Glasgow postgraduate student, Isa Rao, has been awarded a top prize at the annual European Science TV and New Media Awards held in Lisbon last night.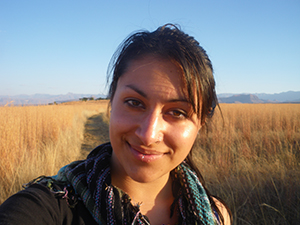 Isa's one-minute movie, featuring two lovable sock puppets, explores how the precision medicine revolution uses genetics and lifestyle information to develop customised healthcare of the future.
Isa's winning film saw off 5 shortlisted entries, from 3 European countries, as well as several entries from different countries which did not make the shortlist.
Isa said:"Winning this European Award is just amazing. I am currently doing a PhD in Cognitive Neuroscience at the University of Glasgow and I feel really passionate about making science communication fun and creative.
"That's why I decided to use sock puppetry in my film to illustrate how precision medicine will improve health care for our citizens."
A guide to personalised medicine
The European one-minute mobile movie category was inspired by SCI SHORTS a skills development opportunity for budding Glasgow filmmakers, pioneered by Glasgow City of Science and supported by GMAC Film, Creative Clyde and People Make Glasgow.
Dr Susie Mitchell, programme director of Glasgow City of Science, said: "Working with partners, Glasgow City of Science supports novel interdisciplinary approaches that promote Glasgow's world-class offer in science and innovation.
"The arts, including film and TV, have the ability to story-tell, spark curiosity and emotionally connect our science to the wider public; how it impacts on their lives and the world as a whole. Thanks to everyone who made SCI SHORTS 2015 such a success, including our partners the University of Glasgow. I warmly congratulate Isa on her European win."
Filippo Perfido, Director of GMAC Film, said: "60 seconds, zero or no budget, a good idea and a simple, yet still very important message to convey. This is not just an extremely informing and entertaining short film, it's a successful experiment and the best example of what we had in mind when we sat down with our friends at Glasgow City of Science to discuss and develop SCI SHORTS."
Follow Glasgow City of Science on Facebook and Twitter
---
First published: 30 November 2015