Personal Timetable and Roomfinder App
Have you ever struggled to find your way around campus or wondered where a particular room is, writes Karen Lee, Campus Timetabling Team - Estates and Buildings.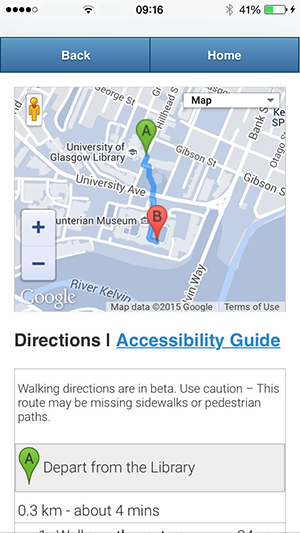 ‌The roomfinder app is designed to help! Keying in either your current location or a specific University building along with your destination will provide you with a map and directions to that location.
Working with DisabledGo we have been able to integrate details of accessible routes around campus and accessibility information for buildings and rooms.
The personal timetable feature allows staff to view their teaching commitments (or indeed any event created in CMIS – the University's timetabling system – to which they are attached) and to synchronise this with their personal calendar.
Over the last year we have seen an increase in use of the app and receive consistently positive feedback.
With the additional features introduced this year we hope this will prove even more useful to staff and students.
To access the app go to: glasgow.ac.uk/apps
or select 'Mobile Timetable and Roomfinder' from the 'Services' menu on the MyGlasgow portal.
Summary of features:
Check your timetable on the go
Navigate campus with ease using maps and directions to University buildings and rooms
Check out the physical access features of locations and accessible routes
Receive updates and text alerts of late timetable changes
Synchronise your timetable with your personal calendar
---
First published: 24 August 2015