A Step Too Far?
Issued: Fri, 26 Aug 2011 11:31:00 BST
A graduate from the University has just finished an epic 3,000 mile walk across America in a bid to raise £100,000 for his charity, the Tag Rugby Trust.
After almost three months on the road, a weary Jon Beeby, aka 'Beebs', finished his cross-continent trip at Santa Monica Pier, the last stop on a trip which took him all the way from New York to Los Angeles, much of it along the fabled Route 66 Highway. Jon set up and undertook the walk, called 'A Step Too Far?', to raise money for help improve the lives of children in developing countries using rugby and raise awareness about the Tag Rugby Trust.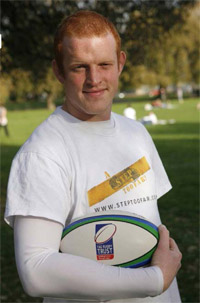 Averaging 40 miles a day over 88 days, Jon got through 616,000 calories, 1,232 litres of water and 12 pairs of trainers along the way as he battled through everything that the US climate and geography could throw at him, including 10 days of torrential rain in Ohio, scorching heat in Texas and the gruelling Allegheny Mountains in Pennsylvania. He kept everyone updated on his trip via Twitter, Facebook and his blog.
He stated that: 'having people follow me back home really helped me get through the really hard times, their support pushed me to beat my projected time of 100 day by 12 whole days' He also said that he was 'Amazed by the kindness shown to me by locals across the US.'
The Tag Rugby Trust was set up in 2002 with aim of using rugby as a way of making a difference to the lives of children from underprivileged backgrounds around the world. The Tag Rugby Trust currently works with schools and orphanages in Zambia, Uganda, Kenya, Mexico and Romania, empowering young people through sport and leaving a legacy though the local rugby clubs that they support.
The money that Jon is raising with 'A Step Too Far?' will go towards taking groups of underprivileged teens on a Tag Rugby Trust tour to help coach young rugby players from developing countries. You can read more about past tours undertaken by the Tag Rugby Trust on their website to get a better idea of the work that they do on a day-to-day basis.
To find out more about 'A Step Too Far?' please visit Jon's website www.steptoofar.com and to donate please visit www.justgiving.com/steptoofar.
---