Writing Advice for PhD and MRes Students
Postgraduate research (i.e. PhD or MRes) students from any College can make an appointment or come to a class with Dr Jennifer Boyle, the Writing Adviser for PGR students, to talk about anything related to their academic writing.
Advice on current, un-marked work can include discussions of your dissertation or thesis plans, and the technicalities of your research and writing process, but we cannot give advice on the specifics of your subject or feedback on your accuracy.
Postgraduate taught students should make an appointment with either:
Appointments
Postgraduate Research students can make an appointment with Jennifer (GUID required). The booking diary shows appointments available in the next 21 days only.
All appointments will take place online.
Staff A-Z entry & publications
Room 317
McMillan Reading Room
University Avenue
University of Glasgow
G12 8QQ
0141 330 6700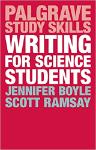 ‌‌
Dr Jennifer Boyle
Jennifer has a PhD in Medieval History, and a background in both History and English Literature. She works with students from all disciplines, and has worked in the past with students from school, undergraduate and postgraduate taught levels. She works in conjunction with the Research and Strategy Innovation Office and LEADS.
Publications
Jennifer is the co-author of Writing for Science Students (Palgrave): a handbook for undergraduates in biology, chemistry, physics, and other related sciences, as well as for international postgraduates who studied their first degrees in higher education systems that did not assess heavily by essays. A second book, aimed at PhD students, is currently in preparation.
Staff A-Z entry & publications
Room 317
McMillan Reading Room
University Avenue
University of Glasgow
G12 8QQ
0141 330 6700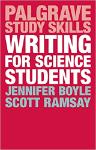 ‌‌