Mapping, reflection and personal development plans (PDPs) for Graduate Attributes
Mapping, reflection and personal development plans (PDPs) for Graduate Attributes
Summary
A 5-week student selected component (SSC) in Forensic Toxicology and Graduate Attributes for second year medical students raised awareness of GAs via mapping activities, reflection and PDPs.
Contributors
Dr Amanda Britten
Contact
Context
College of Medical, Life and Veterinary Sciences
Level: Undergraduate Pre-honours
Subject: Undergraduate Medicine / School of Medicine, Dentistry and Nursing
Key Features
Typical group size is small <25 students
Focus on raising general awareness of GAs through reflection
Teaching sessions are delivered as seminars over 5 weeks
Regularly occurs as part of a course with total teaching time for the activities is 2 hours or less
The learning activities are fully integrated into learning & teaching, assessments and the course PIP
Staff workload includes preparation of formative and summative assessments, learning activities and written feedback on individual student assessments.
Technology: Activities are a blend of in class and independent study time and can be delivered in person or online using the Moodle VLE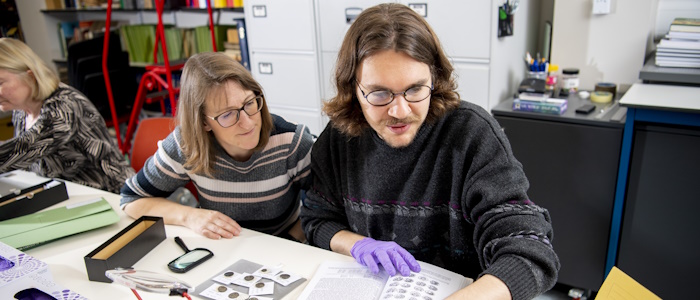 Rationale
To raise awareness of the UoG GAs to Year 2 medical students and give them dedicated time and space to engage with these via the facilitation of key learning activities within the 5-week SSC in Forensic Toxicology and Graduate Attributes. The ILOs for this component of the SSC were as follows:
Determine your graduate attributes in relation to the SSC 'Forensic Toxicology and Graduate Attributes'
Reflect on graduate attributes and any other relevant experiences whilst undertaking the SSC
Generate a personal development plan for the attainment of further graduate attributes for the remainder of MBChB2 and beyond
Implementation
Graduate Attributes (GAs) was a key theme that was integrated into the design, delivery and assessment of the SSC 'Forensic Toxicology and Graduate Attributes'. Over the 5-week period of the SSC, the students were supported to carry out discrete self-directed learning activities in relation to GAs (these were delivered as part of a bespoke Moodle site for the SSC), given written feedback on part of the draft assessment for GAs by the SSC supervisor, as well as discussing their GAs, reflections and personal development plan (PDP) with their SSC student peers and supervisor in live learning sessions (online or in person). The GA element was summatively assessed via 1000-word written assignment which contributed a 20% weighting to the overall assessment of the SSC.
Details of the activities undertaken by the SSC students in relation to Graduate Attributes were as follows:
Week 1: Graduate Attributes – mapping (Learning activity on Moodle)
Using the University of Glasgow Graduate Attributes document (in the Graduate Attributes section of this Moodle site), map activities that you will undertake during this SSC which meet the academic, personal and transferable dimensions for each of the 10 GAs listed. It is OK if you don't have an example for all dimensions. Gaps in the dimensions will provide a platform for you to think about how you can achieve these in the rest of MBChB2.
Elements of the mapping were discussed with peers and the SSC supervisor in a live learning session a week after being given the self-directed learning activity on Moodle
Weeks 2-3: Graduate Attributes- reflection & opportunity for feedback (Learning Activity on Moodle)
Start to reflect on your learning experience of the SSC so far in conjunction with the SSC activities and UoG GAs / relevant dimensions that you mapped last week. You can use Gibb's reflective cycle to support you to do this. Make sure you record your reflection(s) so that you can share in the live learning sessions and / or receive feedback.
If you wish to receive written feedback on your graduate attribute mapping and a topic of reflection that falls out of your UoG GA mapping, upload your file to your personal files folder on MS Teams by (date).
Written feedback was provided for each student submission one week later.
Week 4: Graduate Attributes reflection and Personal Development Plan (PDP) (Learning Activity on Moodle)
Consider the feedback given on your draft mapping and reflections of your GAs work. Continue with your written reflections and think about how you will develop further GAs for the rest of MBChB2 through a PDP.
Week 5: Graduate Attributes – PDP discussion (Learning Activity on Moodle)
In the live learning session be prepared to discuss elements of your personal development plan (PDP) that you have generated as a result of the mapping and reflection of the UoG GAs that you have undertaken over the past 4 weeks.
The assessment criteria for the GA element of the SSC were:
Correct mapping of activities from the SSC to relevant graduate attributes/dimensions; illustrated with appropriate examples and presented in a suitable format
An insightful reflective commentary in relation to chosen graduate attributes which shows evidence of using appropriate tools and resources to support reflection
A well-constructed and clear PDP with specific examples of action presented in a suitable format
Reactions
There was uncertainty from some students regarding the initial mapping of activities from the SSC to the 10 GAs and the academic, personal and transferable dimensions. None of students were aware of the UofG GAs at the beginning of the SSC (in class responses and end of course evaluation), so this could explain this reaction. Staff reactions to the GA activity in this course have always been that students will not value this element of the course compared to learning new knowledge about Forensic Toxicology.
Overall, the students engaged very well with the GA learning activities as witnessed from the assessment outputs, but it is difficult to determine how much of this engagement and learning was driven by the assessment compared to interest and value placed on GAs by the students themselves. Indeed, a post course evaluation in 2021 indicated that all students who completed the evaluation were 'neutral' when asked how valuable they felt the GA element was to them at this point in MBChB2. One student GA reflection also indicated that they were uninterested in the GA aspect of the SSC, but did understand the importance of analysing academic, personal and transferable skills and how this could help them develop as a student and professional
Analysis and evaluations
The deliberate planning of GA learning activities across the 5-week SSC which enabled the students to engage with the GAs and discuss the topic with their peers and SSC supervisor. Formative assessment of the mapping of SSC activities to GA attributes and draft reflections via supervisor feedback gave the students (and staff) confidence they were on the right track with this activity. The students were able to consider suggestions for improvement prior to the GA summative assessment submission.
All student PDPs contained at least one achievable action to develop a specific graduate attribute(s) for the rest of MBChB2.
What could have worked better? What challenges did you and/or your students face and how did you overcome them?
As indicated, there was some uncertainty for the students regarding mapping of SSC activities to the UoG GAs due to a lack of awareness of the GAs. Live learning sessions were used as an opportunity for students to discuss with their peers and SSC supervisor how activities from the SSC correlated with the relevant dimensions of the UoG GAs. SSC supervisor feedback on a draft written map of SSC activities to GAs / dimensions and draft reflections indicated to students if they were on the right track with this activity. Suggestions for improvement were also given prior to the GA summative assessment submission.
How could this activity be extended and/or adapted to other contexts (subjects, levels, programmes)?
The theme of raising awareness of UofG GAs through mapping, reflection and PDPs could be applied to many subjects and programmes in Higher Education by using / adapting the activities and assessment developed for this SSC. Awareness of GAs could be as tailored to be as broad or focussed to subject areas / programmes via scaling up or down of subject / programme activities and mapping, respectively. Learning activities and assessment could be used to make students aware of the UoG GAs they are meeting well through their degree programmes and to build confidence. Conversely, learning activities and assessment may draw out gaps in UofG GAs and students can use this as an opportunity to plan for development of these in the future through a specific PDP and associated actions. The SSC in Forensic Toxicology and Graduate Attributes took a combined approach
Recommendations
Based on your experience, what advice would you give to an a colleague considering implementing this activity in their context?
Believe that the development of Graduate Attributes is a valid and important consideration in the Higher Education of students in the 21st century alongside subject specific knowledge. Consider where your students are in their course of study e.g., undergraduate pre-honours vs honours and the motivations for engaging with UofG GAs i.e., assessment vs internal motivation and interest to demonstrate GAs for career development beyond University. It is OK if some students do not see the immediate value of engaging with GAs, the purpose of the activities was to raise awareness. The value for the student may come years later depending on their circumstances and the context in which they find themselves and you may never see evidence of it.