Graduate Attribute Infographics: Embedding graduate attributes in the psychology curriculum
Summary
To increase awareness of GAs, we mapped the School of Psychology and Neuroscience curriculum onto GAs in a series of infographics.
Contributors
Dr Steven McNair
Context
College of Medical, Life and Veterinary Sciences
Level: Undergraduate Pre-honours
Subject: Undergraduate Psychology
Key Features
Typical group size is large >100 students
Focus on raising general awareness of GAs through reflection
Teaching sessions are lectures and independent study.
Technology: Can be delivered using a blended/flipped approach, remotely online or in person using the Moodle VLE, Paper materials and/or the Open Science Framework Website.
Regularly occurs as part of a course with total teaching time for the activities is 2 hours or less
Activity can be delivered as a stand-alone session or integrated into the curriculum with little or no impact on staff workload.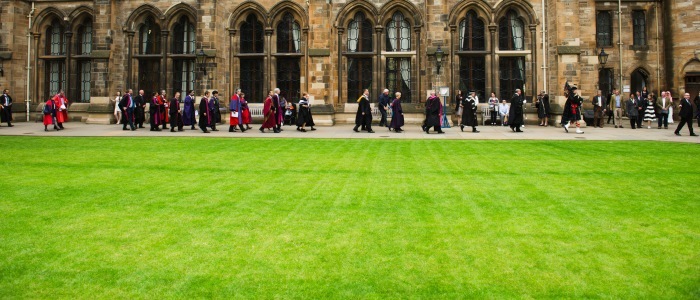 Rationale
Professional development is a key focus of the University of Glasgow's current learning and teaching strategy (University of Glasgow, 2021a), and at college-level one priority is to "Embed employability into our curricula" (University of Glasgow, 2021b). Though there is a general awareness of the importance of employability in undergraduate student populations, long-term (career building) implications of employability are less well understood in the early years of higher education (Tymon, 2011). Within the School of Psychology and Neuroscience (SPaN), we needed to review how we embedded graduate attributes (GAs) within our UG and PGT (MSc Conversion courses) programmes and recognised a need for a one-stop resource to signpost GA development to students and link GAs to key aspects of their programme. We created a series of infographics linking GAs to key activities and assessments and linking GAs to key graduate careers both within and outside of psychology, which can be used flexibility in face-to-face and online settings as part of a course or as a standalone resource.
Implementation
We raised awareness of graduate attributes in psychology through the creation of a series of infographics tailored towards our undergraduate and postgraduate conversion programmes. We clustered the graduate attributes around key themes: problem-solving attributes (comprising of Subject Specialist, Investigative, and Independent and Critical Thinker), social attributes (comprising Effective Communicator, Confident, Experience Collaborators, and Ethically and Socially Aware), and self-management attributes (comprising Resourceful and Responsible, Adaptable, and Reflective Learners). Using an approach driven by Advance HE guidance in embedding employability in the curriculum (see Stage 1 Defining employability and Stage 2 Auditing and mapping, Tibby & Norton, 2020), these infographics explain each graduate attribute in terms of key capabilities within the study of psychology, and map graduate attributes onto specific tasks and behaviours in which they are developed across the SPaN curricula. Two further infographics were created to communicate how graduate attributes map onto competencies required by employers in specific career areas, both within and outside of psychology (See Stage 3 Prioritising Actions, Tibby & Norton, 2020).
Reactions
School of Psychology and Neuroscience students have responded positively to the infographics and have reported having found them useful, particularly in the early stages of their programme. At a graduate attributes working group, feedback from the SRC highlighted that the infographics were "highly praised with engaging students from first-year" and that the posters in our lab spaces were "highlighted by level 1 students as good practice". Our School staff have also found the infographics useful in signposting students to priorities for skills development, and have been used by Advisers of Studies in helping students plan their development.
Analysis and Evaluations
Overall, the infographics have been useful in generating awareness of graduate attributes right from the start of our students' journies in psychology, and have been useful in showing how the graduate attributes can be applied to a psychology context. In a level 3 Professional Skills course, the infographics helped students reflect on the graduate attribute development by providing concrete examples of where each attribute has been developed in their studies thus far. For students, the main challenge is in encouraging them to use the infographics independently as part of their personal development plan throughout their degree. Regular signposting towards the infographics by teaching staff and course leads would help maintain an awareness of the resources available, and active engagement with them in skills-based tutorials and labs could help develop an understanding of how the infographics can be used for personal development planning.
Recommendations
Though the infographics are specific to the School of Psychology and Neuroscience, the mapping process and infographic template could be adapted to be as specific (e.g. to suit a specific programme or course) or as general (e.g. College-level) as needed. In starting a curriculum mapping exercise, it is useful to engage with and have input from course leads from an early stage, to accurately represent the activities and assessments of each course. As there are multiple ways of developing each attribute at each level, it is useful to be selective of the examples used and consider dividing material over multiple infographics.
References and Resources
Link to pdf files of the infographics
McNair, S.W. (2021). Psychology Graduate Attributes Infographics 2019-20. Retrieved from osf.io/5wn9c
McNair, S.W. (2022). Graduate Attribute Infographics: Embedding graduate attributes in the psychology curriculum. Paper presented at the 15th Annual University of Glasgow Learning and Teaching Conference, University of Glasgow, Glasgow, UK. https://www.gla.ac.uk/media/Media_847021_smxx.pdf
Swingler, M., & Copsey, D. (2021). The Graduate Attributes Roadmap. Teaching Innovation & Learning Enhancement Network. https://tile.psy.gla.ac.uk/2021/08/03/the-graduate-attributes-roadmap/
Tibby, M. & Norton, S. (2020) Essential frameworks for enhancing student success: embedding employability A guide to the Advance HE Framework. Advance HE. https://www.advance-he.ac.uk/knowledge-hub/essential-frameworks-enhancing-student-success-embedding-employability
Tymon, A. (2013). The student perspective on employability. Studies in Higher Education, 38(6), 841-856. https://doi.org/10.1080/03075079.2011.604408
University of Glasgow (2021a). Learning and Teaching Strategy 2021-25. University of Glasgow Senate Office. https://www.gla.ac.uk/media/Media_775156_smxx.pdf
University of Glasgow (2021b). Education Strategy: Executive Summary. University of Glasgow College of Medical, Veterinary & Life Sciences. https://www.gla.ac.uk/media/Media_812296_smxx.pdf