Staff A-Z entry & publications
0141 330 8062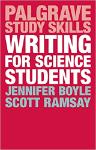 ‌‌
Dr Scott Ramsay
Good Practice Adviser
My role is to collect, collate and disseminate examples of good practice in teaching and learning from across the University, and from the wider Higher Education sector.
Previously, I taught as the Effective Learning Adviser for the College of MVLS from 2012 to 2018, helping students to develop their academic literacies through a combination of lectures, online resources, and 1:1 appointments.
Prior to that, I taught for 4 years on courses across MVLS as a Graduate Teaching Assistant while gaining a PhD in molecular biology from the University of Glasgow.
I am also the co-author of Writing for Science Students, which won Book of the Year at the Academic Book Trade Awards in 2018.
Areas of responsibility
I coordinate the LEADS CPD series, I publish the resources in the Good Practice Advice section of our website, and I edit the ~6 weekly LEADS Magazine.
In collecting, collating and disseminating examples of good practice, I also facilitate new connections between staff members who might be developing their teaching in complementary ways.
I also co-organise Let's Talk About [X], the University's multidisciplinary undergraduate research conference, and [X]position, the journal counterpart.
Who should contact me
Staff who wish to be connected with the relevant expert educational developers within LEADS, or with other staff on campus working towards similar learning and teaching goals.
Staff with questions for the 'Ask the Experts' section of the LEADS Magazine.
Staff A-Z entry & publications
0141 330 8062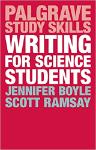 ‌‌
Good Practice resources
Good Practice resources
These areas will be populated over the upcoming months with advice, examples, case studies and guides, both from within Glasgow and from reputable external sources.