Find out more
Kaltura
Kaltura is designed to allow you to capture, host and share video-based content. You can monitor how many views each video is getting, and which areas of your content are getting the most engagement. Kaltura also allows you to create in-video quizzes and 'lean forward' engaging content via the use of interactive video.
Find out more
Kaltura Terminology
My Media: My Media is your personal media storage. It is different for each user because it shows media you have uploaded or created over time. The same "My Media" list is available to you from each course, and items in My Media can be published in one or more courses. Items in My Media are private to you until they are published somewhere. You can also add other users as collaborators on your media from within My Media.
Media Gallery: The Media Gallery is private to the course you are in. Everyone enrolled in that course can see what's published to the Media Gallery. Multiple people in the course can contribute to the Media Gallery depending on the way the admin setup the course.
Channels: In Kaltura MediaSpace, a channel is a collection of videos and other media that can be public or restricted in terms of who can view and contribute media to the channel.
Playlists: There are two types of playlists available in MyMedia. Manual playlists allow you to select a static list of items, while Rule-based playlists are dynamic and automatically updated based on what's currently available in your media library and what rules define the playlist.
Annoto: is an in-video collaboration and engagement solution that turns your video content consumption from passive individual watching to active, social, and collaborative experience. Annoto integrates with Kaltura as a plugin on top of the existing video player. It provides innovative UX for threaded discussions and call to action interactions during the video, increasing user engagement and collaboration.
Express Capture: A tool for instantly providing you with the functionality to record yourself to add a talking head clip to your Moodle course. This is a great way to provide feedback to the class where your presence is front and centre.
Kaltura Personal Capture: is an easy to use, rich media capture tool that comes built in into Kaltura's products. With just one click, you can capture multi-stream recordings, easily record videos linked with PowerPoint or capture your screen. Help your users create engaging videos.
Interactive Video Quizzing: seamlessly embeds multiple choice questions at any point in a video. Creators easily add their own questions through a user-friendly interface. These questions are attached to the video and 'travel' with it wherever it is embedded or presented.
Kaltura Interactive Video: enables you to build choice-based paths into your videos, inviting your audience to engage and participate. With Interactive Paths, you can customize your content to create a more personalized, "choose your own adventure" experience for each of your users.
Creating Media using the Moodle plugin
Kaltura Captions (Transcriptions)
Transcriptions within Kaltura are very easy to edit and correct, you can follow these simple steps on how to do it.
1. Go to 'My Media', selecting it by clicking your account icon.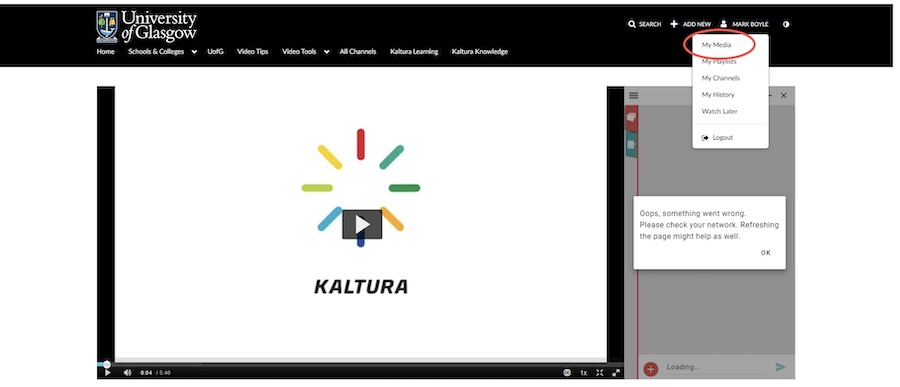 2. On the video that you wish to edit captions, select 'edit video'.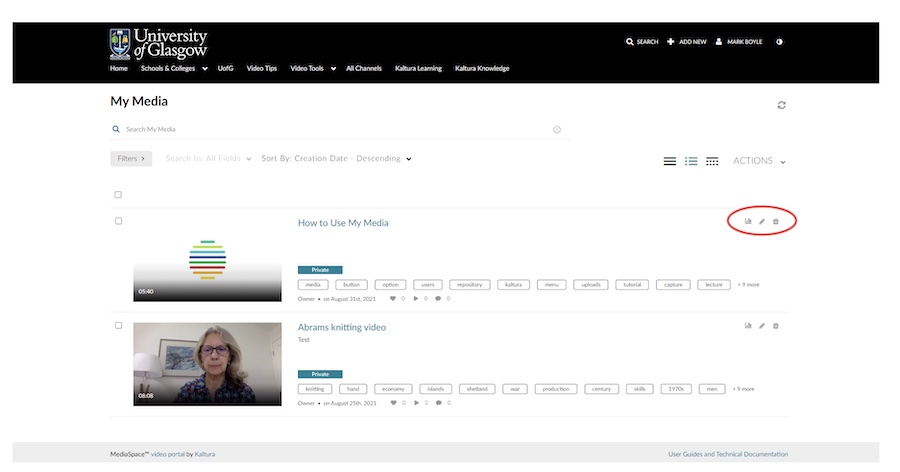 3. Select the 'Captions' tab under the video, this will take allow you to edit the transcriptions, if you now click 'Edit Captions' it will take you to the editor. If you have a transcription file that you want to use with a video you can upload it from here by clicking 'upload captions file'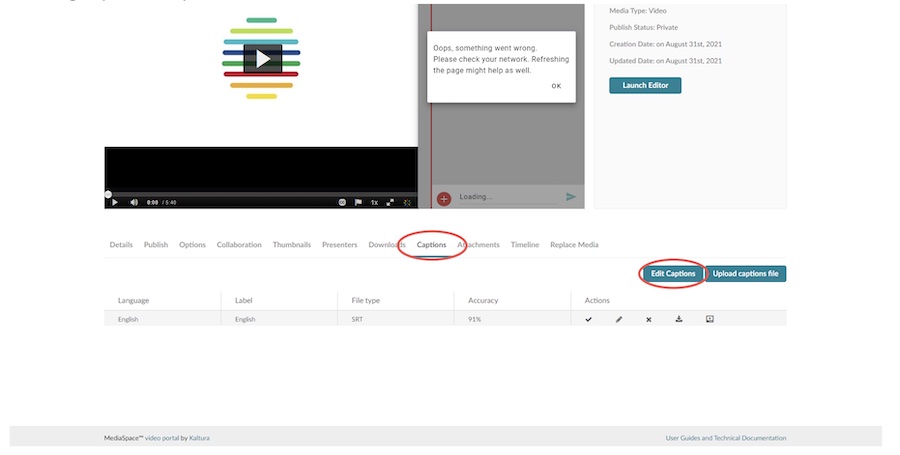 4. Within the transcription editor, simply click on the section of the transcription that you want to edit and do so.
5. When finished editing simply click on 'Save' and your changes will be saved to the transcription of the video.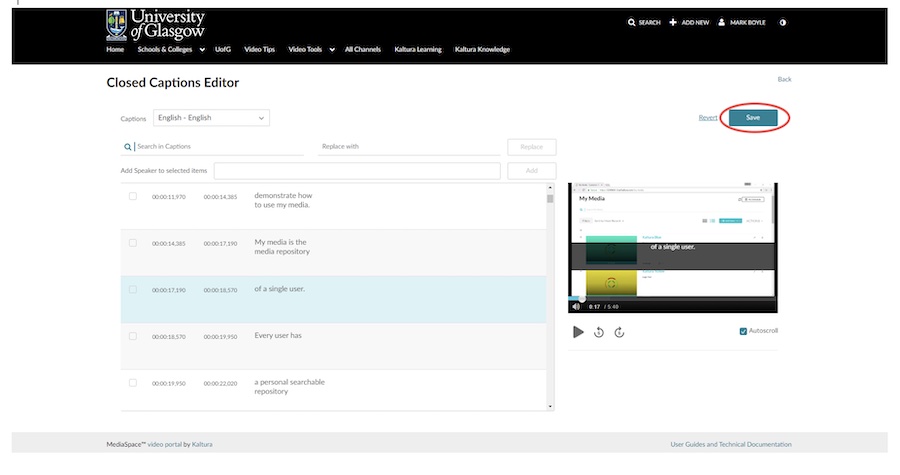 Sharing Media
Share media to Moodle and other locations -how to embed media directly onto a Moodle page. Embedding video content is a good way of displaying content on Moodle that allows users to easily see how this video progresses onto the next task
My Media
Your 'My Media' section of your Kaltura account is where you will find all your video and media content. From here you can share, edit, create playlists, and manage your media.
Annoto
The Annoto Comments Space enables a discussion between all the viewers of a video - learners and instructors. Every comment is time-tagged, meaning: you can always see the specific moment in the video each comment refers to and understand its context. Annoto also provides a private not taking space for each viewer.