More successful submissions to Athena SWAN
The University of Glasgow is delighted to announce it has achieved two new Athena SWAN awards in recognition of its ongoing commitment to gender equality for staff and students, bringing the current total to an impressive 19 awards across the University.
The awards, made by Advance HE (formerly the Equality Challenge Unit or ECU), includes a new Silver Award for the School of Veterinary Medicine (part of the College of MVLS); and a renewal of a Bronze award on the expanded Charter for the School of Chemistry (part of the College of Science & Engineering).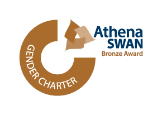 Professor Dame Anna Dominiczak, Vice Principal and Head of the College of MVLS, said: "The College of MVLS is delighted by its most recent Silver Athena SWAN award, and I want to congratulate everyone involved at the School of Veterinary Medicine in making this happen.
"We continually strive to be better in all areas at the University of Glasgow, and these awards are something we are very proud of as we continue our efforts to further equality and diversity, not only at the College, but the University as a whole."
Professor Muffy Calder, Vice Principal and Head of the College of Science and Engineering, added: "I am proud of the advances the University of Glasgow has made in promoting equality and advancing the careers of women in STEM, so I'd like to congratulate the School of Chemistry on renewing their Athena SWAN Bronze Award. The College aims to value, nurture and support women and we'll continue to work to address gender quality across all of our Schools."
There are three levels of Athena SWAN awards: Bronze (planning), Silver (doing), Gold (sustaining). The University of Glasgow was first awarded an institutional Athena SWAN Bronze Award in April 2013.
Last year, a prestigious Athena SWAN Gold award was won by the Institute of Health and Wellbeing – the first Gold Departmental Award gained by the University.
---
First published: 3 May 2019