Music samples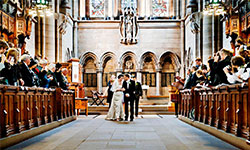 Below are examples of organ and choral music that can be played at your wedding ceremony.
All music is available in mp3 format.
Are you ready to confirm your wedding ceremony music choices? Fill out our music choices form!
Choral music
Music performed by:
The University of Glasgow Chapel Choir *
Director of Chapel Music, James grossmith
University Organist, Kevin Bowyer **
Soprano, Emma Harper ***
Chaplain to the University Rev Stuart D MacQuarrie.