Please note: there may be some adjustments to the teaching arrangements published in the course catalogue for 2020-21. Given current circumstances related to the Covid-19 pandemic it is anticipated that some usual arrangements for teaching on campus will be modified to ensure the safety and wellbeing of students and staff on campus; further adjustments may also be necessary, or beneficial, during the course of the academic year as national requirements relating to management of the pandemic are revised.
Postgraduate Certificate In Child Health MED5065
Academic Session: 2022-23
School: School of Medicine Dentistry and Nursing
Credits: 60
Level: Level 5 (SCQF level 11)
Typically Offered: Full Year
Available to Visiting Students: No
Short Description
This course is borne out of the need for the NHS to deliver basic academic training in paediatrics to all trainees in Scotland, and to formally cover the Framework of Competencies for Training in Paediatrics outlined by the accrediting body, Royal College of Paediatrics and Child Health. All 4 Scottish Deaneries have offered support to this programme, and will request that all paediatric trainees at Specialist Trainee point 4 or above complete this programme as part of their professional training.
Timetable
Requirements of Entry
Assessment
Coursework
Summative assessment
■ 5 summative essays 3000 words each (70%)
■ Summative Reflective portfolio or Summative clinical cases logbook (30%)
Course Aims
This course is designed for doctors in training programmes for paediatrics who are currently working as Specialist Trainees (ST) in the UK. It is designed for ST trainees post MRCPCH who are in ST years 3, 4 or 5. It will provide successful students with a qualification which in conjunction with appropriate clinical training will satisfy the Postgraduate Medical Education and Training Board (PMETB) and allow them to move on to year 6 training.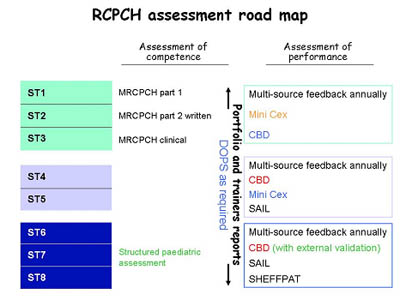 The Postgraduate Certificate is offered on a part-time basis normally over one academic year and is available over 2 years.
The aim of the taught PG Certificate course in Child Health is to:
■ Facilitate the acquisition and integration of a knowledge base in Child Health to enable students to practice at a level expected at the end of ST5 training by Postgraduate Medical Education and Training Board set down in the training document http://www.rcpch.ac.uk/Training/Competency-Frameworks
■ Develop students' skills in problem solving, experimental design, evaluation and critical interpretation of clinical data, literature searches, and team working.
■ Provide paediatric trainees with suitable knowledge and skills to practice evidence based medicine throughout their careers
■ Lay the academic foundations on which some students may wish to pursue further study for a PG Diploma and MSc(MedSci) in Child Health (subject to Senate approval for commencement in 2011 and 2012 respectively).
Intended Learning Outcomes of Course
Knowledge and Understanding
As a result of participating in the Certificate in Child Health, students will develop an in depth, integrated and critical understanding of:
■ basic science, health science, and research science in relation to the clinical practice of paediatrics;
■ the application of theoretical knowledge to specialist clinical situations;
■ the value of self-analysis, reflection, and criticism of personal standards of treatment;
■ the value of synthesising information to reach logical conclusions;
■ statistical methods to allow critical appraisal of published data;
■ ethical issues which are inherent in the practice of clinical paediatrics
Skills and other attributes
Subject specific skills
By the end of this programme participants will be able to demonstrate a specialist range of skills:
■ to diagnose and plan treatment appropriately;
■ to understand the importance of a multidisciplinary approach to patients with medical, intellectual, and physical disability;
■ to appreciate importance of a multidisciplinary approach in children with complex problems.
Intellectual skills
By the end of this programme participants will be able to practice in ways which draw on critical reflection on own and others' roles and responsibilities:
■ to undertake a full history and examination from a child and family, make a diagnosis and formulate a treatment plan, or refer if appropriate, taking account of any medical, intellectual, and behavioural problems;
■ to identify key issues in a clinical scenario;
■ to apply a multidisciplinary approach in complex clinical scenarios;
■ to develop original and creative responses to problems and issues;
■ to reflect on their practice in the context of published research and clinical guidelines.
Transferable/key skills
By the end of this programme participants will be able to exercise substantial autonomy and initiative in professional and equivalent activities:
■ in retrieval of information from a variety of sources (library, internet);
■ in critical use of online databases and e-journals;
■ in responsibility for one's own work in independent tasks and as a part of a team effort;
■ in time management skills to accomplish individual designated tasks by a given date;
■ in effective interpersonal group skills with particular reference to educational, cultural and religious diversity;
■ in team leadership;
■ in constructive critical self-and peer -evaluation;
■ an awareness of employers' requirements regarding continuing professional development
Minimum Requirement for Award of Credits