Workshop Outcomes
Researchers and practitioners working together - As part of the project, three workshops were held in Dundee, Edinburgh and Glasgow during May and June 2018. This brought together academic researchers and industry practitioners to discuss the IP business model and the issues facing videogame developers wishing to develop and commercialise their own games.
Sharing research - Researchers shared findings from research with independent videogame developers about the IP model that highlighted the perception of business models, the factors that supported and constrained the IP model, and the different paths taken by developers to achieve this model.
Sharing experience - Industry experts discussed their experience of business models via interviews and discussions with attendees, and interacted throughout the session. All the experts were experienced industry professionals from companies in Scotland namely David Hamilton, Executive Vice President of Ninja Kiwi, Melissa Knox, Producer at Blazing Griffin and Colin MacDonald, Head of All4Games
Identifying key issues - The workshop participants combined their own reflections with group work to examine:
How the IP model is perceived and the drivers for adoption.
Factors constraining and facilitating the IP model.
Ideas to address the barriers facing developers in Scotland pursuing the IP model
Generating benefits - The project generated new connections, strengthened existing relationships, encouraged debate, and generated ideas for industry development. Participants said they benefited from the workshops in the following ways:
Learning more about business models
Access to practitioners with experience
Access to research
Understanding the factors that help and hinder
Opportunity to share research, experience and knowledge with other attendees
Networking/new contacts
Think more broadly about the business model that they use – not just either/or re IP or WFH and appreciate different ways of achieving value
Sharing the outputs - The workshop outputs are available on the project page http://bit.ly/IPgames including podcasts with speakers and attendees, summaries of the issues discussed and workshop observations.
The Meaning of IP
Workshop participants were asked to reflect individually on what IP meant to them, why it was important, and to capture this in words or illustrations. These reflections were then discussed with other group members and shared with other participants. The data are provided in their original form as generated in the workshops, together with some photos providing examples of the outputs generated.
Independence
Identifiable
Creativity
Creative control
Contribution to development
Opportunity
Ownership
Legal recognition
Control
Commodification method
Freedom to work for yourself
Mascot/logo
Community fans
Branding
Getting a product DNA
Making something new
Getting it to market
Value
Merchandise/cross selling
Unique
Dystopia
High risk
High pressure
IP can kill idea execution and slow things down
Financial uncertainty
Expense upfront
Ideas re content, process, technology
The IP person
Can work with other IP owners in non-WFH mode
Something to protect
Not just the launch but having an impact
IP in the mind of the audience – who do they recognise as the owner
Is this term being use as a catchall?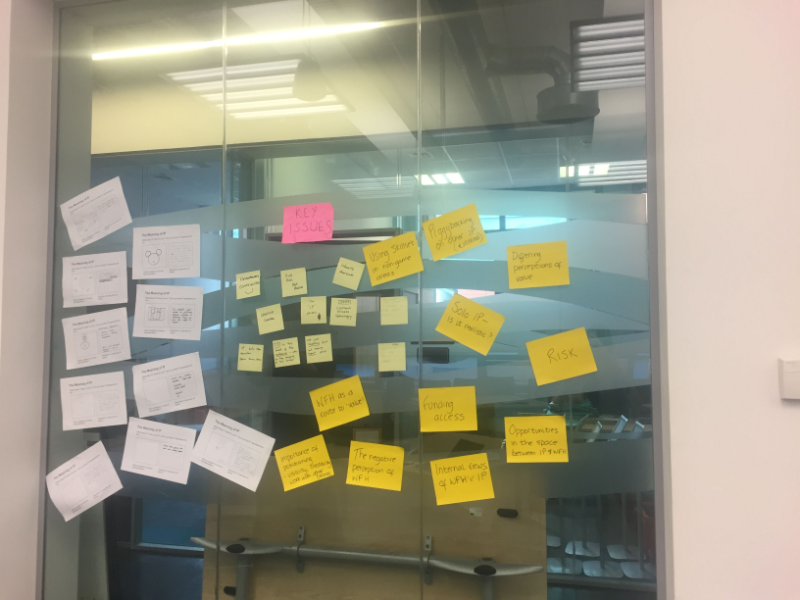 ‌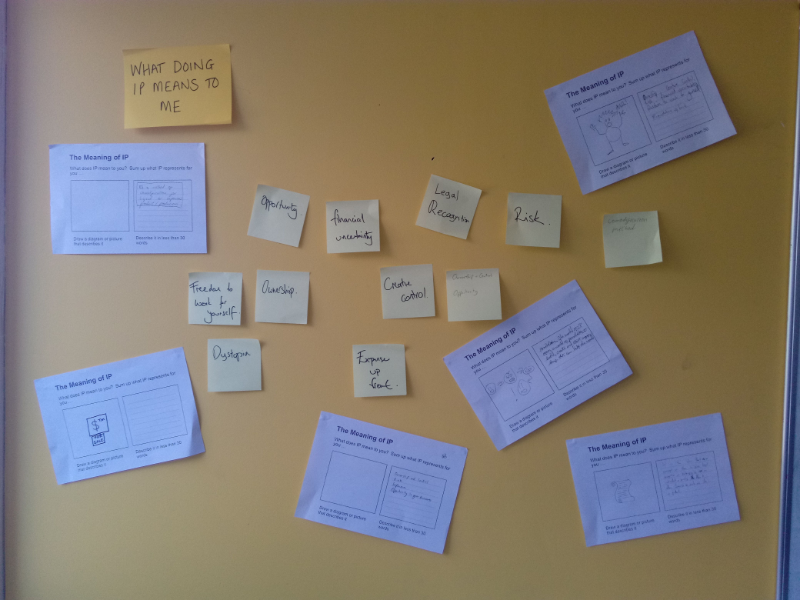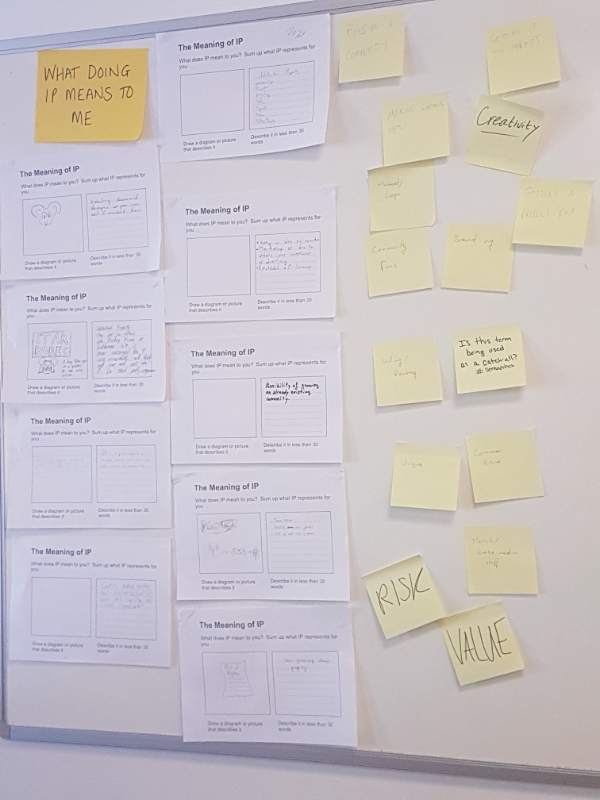 ‌
Factors Influencing the IP Model
Workshop participants generated and discussed the factors that helped or prevented the adoption and sustainability of the IP model. Some more general observations were also made. The data are provided in their original form as generated in the workshops together with some photos providing examples of the outputs generated.
Facilitators
Importance of positioning – visibility, credibility, work with other brands
Funding access
Network – access to skiils
Existing contacts for leverage
Kill the darlings – get rid of projects if theyre not working
Knowing what support exists
Awareness of who the company is – not just the game
Use of WFH but with the caveats of that way of working
Know how to engage with audience (have a voice)
Feedback on IP
Feedback on business side
Knowing where to go for funding
Companies need to bring together creative and commercial
Constraints
Risk
Finance
Funding for commercial activities
Finance to start
Publisher requirements (leverage) re wanting IP
Visibility especially new companies
Commercial skills – pitching
Marketing
Communications
Meeting IP owners to get WFH
Discoverability
Managing personal project time with WFH time
Balance between 'my baby' (creativity) and my money (business)
How to fill skills gaps, sales, PR, business people
Sustaining a team for months with no income
Low hit-rate
How new is the game
Lack of recognition that it's a business
Lack of awareness of business aspects
For early-stage companies – expectations unrealistic, the need for more business perspective, the hit rate, risk
Entry level support for commercial perspective
How to find out what exists in Scotland
Encouraging business-related personnel to see games as an option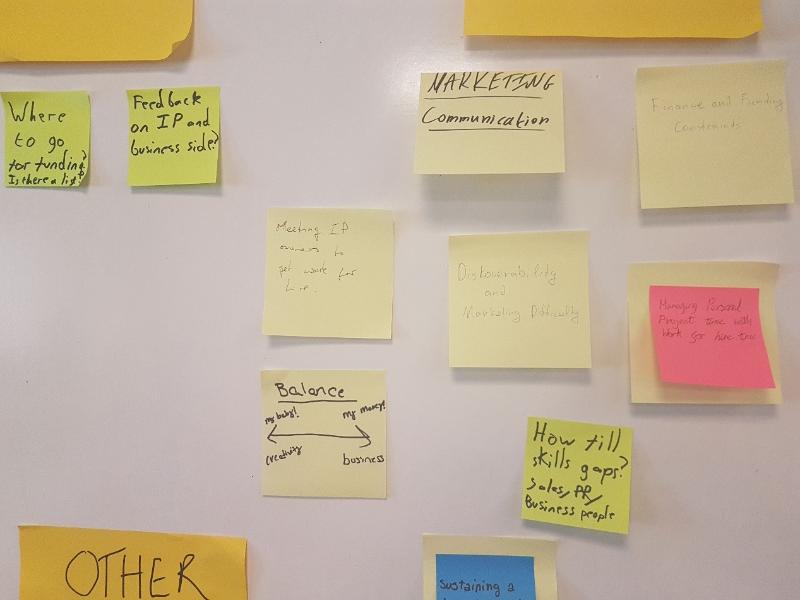 Other observations about business model-related issues
Opportunities for example leverage others (external) IP, using skillset in non-game areas, WFH as a route to value, opportunities in the space between IP and WFH
Graduates – the focus on entrepreneurship and not jobs
Perception of WFH as negative
Are experienced people leaving?
Need an organisation in Scotland as central point/information/visibility
Value sought – long term value is an issue. WFH is not perceived as providing this, for example, issues of clients IP, having to redo new activities each time
In software/tech companies, some of the issues are the same as with games – how to address the issues of subcontract work.
Perception of WFH and IP can vary re:

Product characteristics – interesting, creative, preferred game etc in WFH would be attractive while some IP is not
Role in organisation – team can feel like its WFH even when its own IP
Company can be operating an IP model but the team can feel like their activities are WFH as the power/decision making lies with management and other stakeholders such as investors.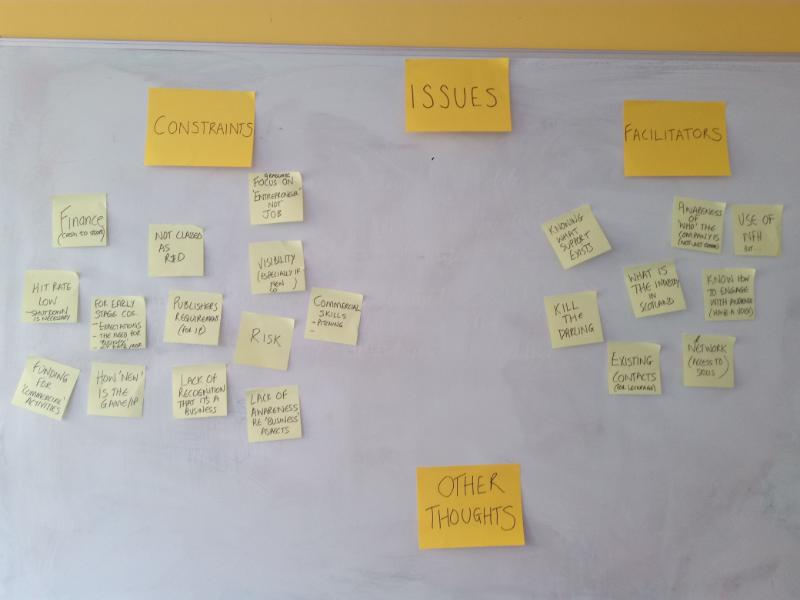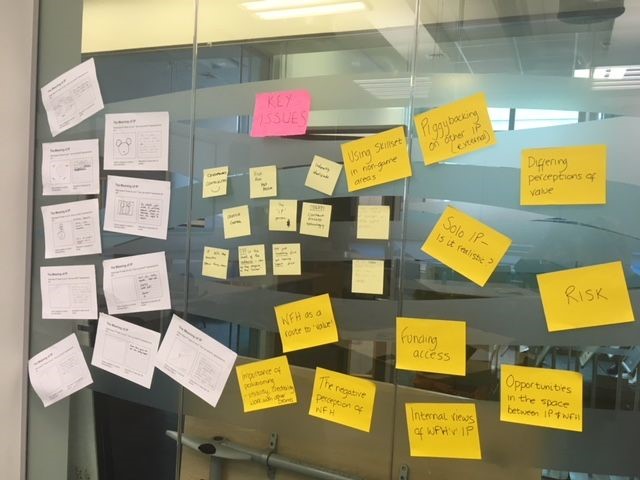 Ideas
Workshop participants worked in groups to create an idea to support the videogame development community in Scotland. This took into consideration the various issues that had been shared and discussed at the workshop. Groups were asked to consider a problem, their vision for change, how developers, the Scottish games industry and support agencies/Government would benefit, barriers and the actions required. Each group then presented their ideas to other participants who commented on their strengths, weaknesses and what else might be considered. A vote was then taken for the best idea! The ideas are summarised below together with some photos providing examples of the outputs generated.
Government platform owners - building information hubs in Scotland – Support the development of more successful studios by addressing the issue of not having enough exposure. This would provide more visibility for games, increase the opportunity for 'hits' and help studios to succeed. This would need SE/SDI input to organize.
Encourage investment – Provide a Scottish entity for funding games by shouting out about the success of the industry and letting investors see the attraction. This would provide developers with more access to IP funding options, could attract talent and funds to the industry, and provide employment, tax and economic benefits to Scotland
Sharing is caring – Support conversations between developers, using a buddy system and open source reference, to address the fact that people don't share the creative/business process of their IP. This would provide developers with easier access to information, encourage the sharing of creative visions across the industry, and theoretically provide a cost-effective scheme for Government. This would need to have key industry players on board, a structured platform and open source approach.
Perception of games – Encourage more investment in games by addressing the negative perception of games from funding sources. This would be beneficial in providing more access to funding for companies, growth for the industry, and retain/build talent in Scotland providing more employment and tax. This would need Government matched funds and larger incentives for investors
Lack of a business person – Some form of speed dating event where companies can talk to real business people to address the lack of business-orientated people in the games industry. This would address developers' lack of business skills and experience. This would need to overcome the lack of integration between the disciplines and would benefit from the involvement of academics/business schools and event organisers.
Project assessment – Provide early feedback on project ideas to assess if the project is worth pursuing. This could limit the resources wasted by developers, strengthen the industry and ensure that any public-sector funding for this activity was being used responsibly. The main things to overcome for this idea are funding and fear.
Business game development network – Create more awareness of development opportunities including finance by bringing together business people and developers. This could provide easier access to finance and business skills for developers and increase the games industry in Scotland. This would need to overcome the ignorance of people about the industry and the creation of various events.
Examples of the Ideas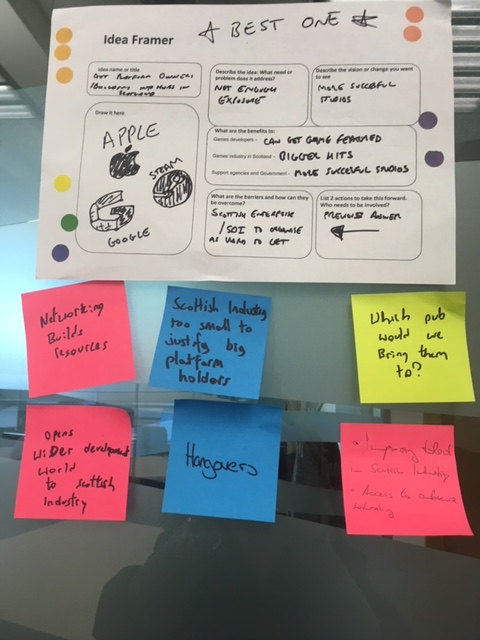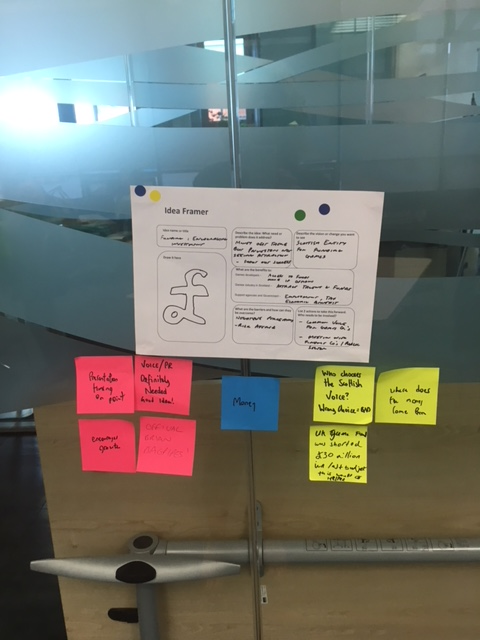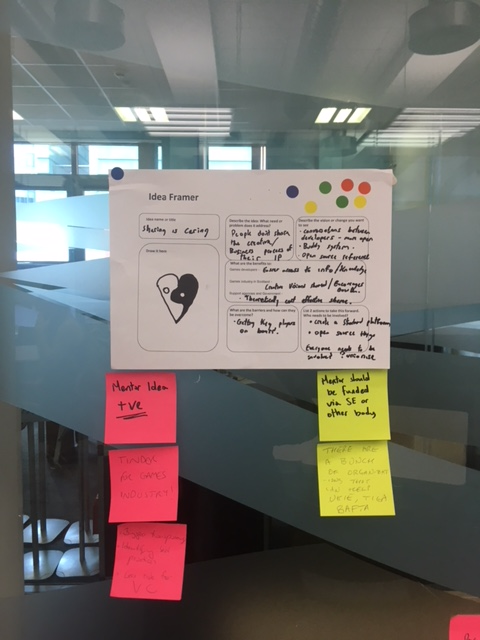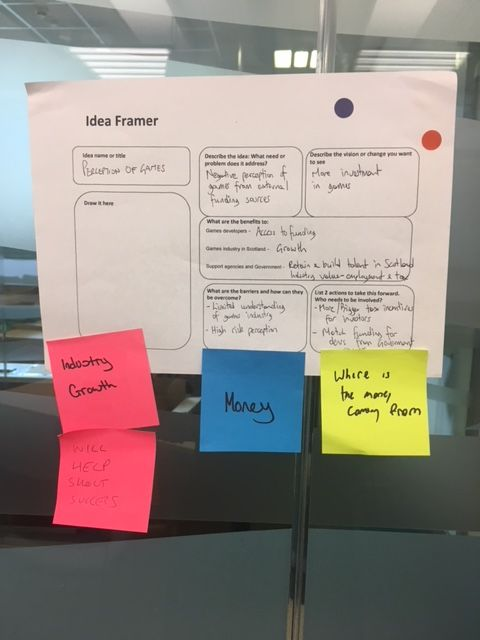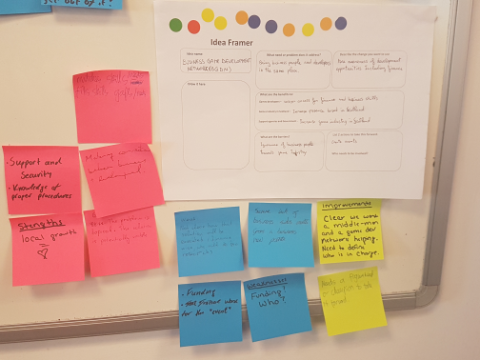 ‌