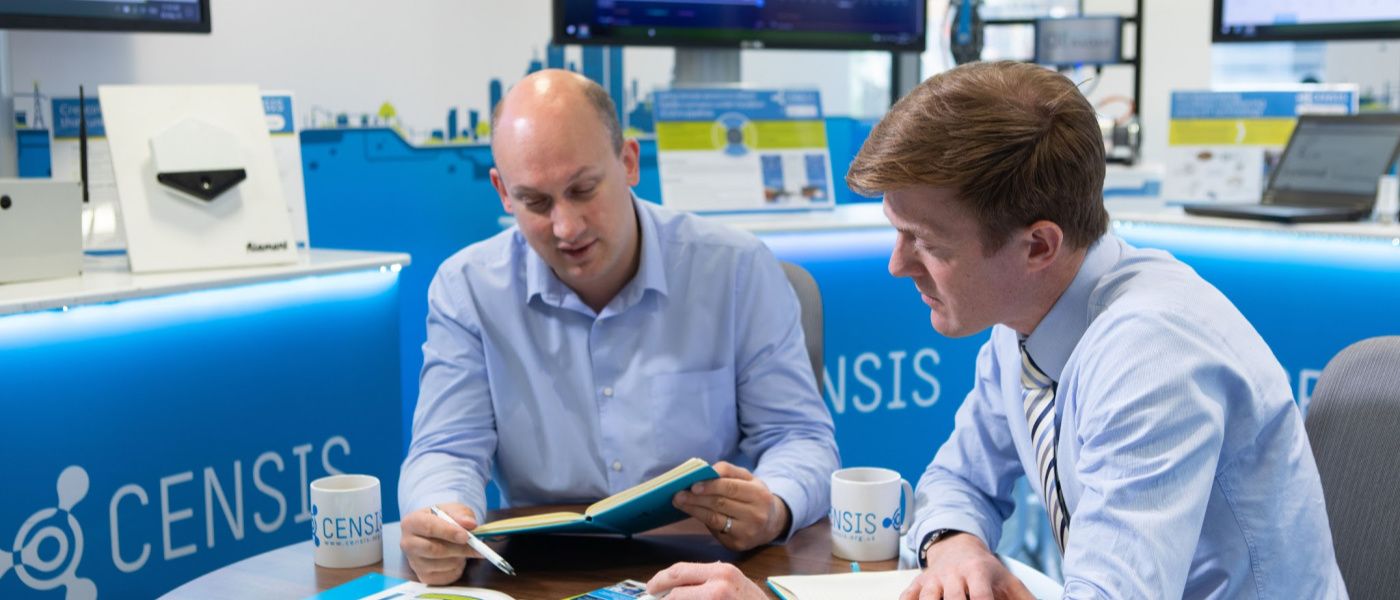 Partnership with Beringar to help NHS use resources more efficiently
New sensor technology developed in Scotland could be used to create a network to help the NHS monitor how efficiently it is using its physical resources.
The NHS spends an estimated £30 billion pounds every year managing its estates and facilities, but consultant-led studies suggest many of its buildings are being used to a fraction of their capacity. The management of the NHS's 500-million sq. ft. estate could be on the verge of an Internet of Thing (IoT) revolution, following the development of new sensing technology by property technology start-up Beringar, supported by CENSIS. Hosted by the University of Glasgow, CENSIS is the Scottish Innovation Centre for sensing, imaging and Internet of Things (IoT) technologies.
With assistance from engineers at CENSIS, Beringar developed a non-intrusive sensor to significantly improve NHS understanding of how its buildings are used.
Transmitting data wirelessly using an LPWAN (Low Power Wide Area Network), the Beringar sensor pack collects 15 data points in real time including occupancy, temperature, air quality, sound and light levels. It replaces replace traditional methods of measuring the utilisation of buildings, such as clipboard surveys, by accurately counting the number of people in a room, checking building occupancy levels and identifying trends in the ways patients and staff use buildings.
In 2017, a pilot implementation of Beringar's technology in an NHS clinic in Ilford, Essex allowed estate managers to identify ways in which they could boost the building's productivity.
Carolyn Botfield, Estates Director at the NHS, commented: "It's important for us to identify where the NHS is adding value, and adapt our services to the requirements of the local community – over time, its needs change. Clinics are often block-booked, but we have no way of finding out if just a few people, or twenty patients, are attending every week. The sensor will allow us to achieve real-time feedback on how our buildings are being used, enabling us to make smarter decisions".
In May 2018, Beringar moved into its next phase of development, trialling its system in Caithness General Hospital to provide a complete asset management solution that tracked the position of 40 hospital beds and continuously monitored comfort levels of 12 hospital wards.
Beringar was recently named among the first set of successful companies at CENSIS's IoT Explorer, an accelerator programme for businesses looking to develop IoT-related products. The Innovation Centre introduced Beringar to the LoRa network and has supported its development with engineering and technical capabilities.
Dr Stephen Milne, Business Development Manager at CENSIS, said: "Apart from traditional methods, such as clipboards and visitor registration books, property managers have had no real concrete evidence of how their buildings are being used day-to-day. Beringar's device is changing that and presents the NHS, and potentially other organisations, with a suite of information to help them deliver a high-performing estate. This project underlines the positive impact the IoT can have, not only in business, but within the services people rely on.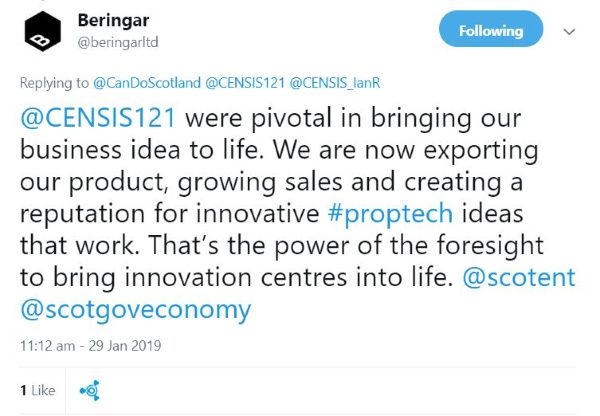 DISCOVER MORE

About CENSIS
CENSIS: Scotland's Innovation Centre for sensor and imaging systems and Internet of Things (IoT) technologies
Accelerating business growth using sensing, imaging and Internet of Things technologies
CENSIS works with businesses of all sizes to de-risk and accelerate innovation, and help industry overcome technology barriers to achieve business transformation.
Offering independent, technology-agnostic, trusted advice and technical support, CENSIS is a not-for-profit Innovation Centre established to assist and support private businesses and public sector organisations to accelerate the pace of innovation by exploiting sensing, imaging and IoT.
In taking advantage of these enabling technologies, companies can gather real-time information to help them make better-informed business decisions to:
Develop new products and services
Improve operational effectiveness
Improve competitiveness, cost reductions and profitability
CENSIS works with everyone from large multinationals and public sector organisations to SMEs including high tech, pre-revenue start-ups.
DISCOVER MORE