Prestigious award for University of Glasgow nanofabrication expert
Published: 15 October 2014
A University physicist has joined some of the world's most celebrated scientists in receiving a rare award.
A University of Glasgow physicist has joined some of the world's most celebrated scientists in receiving a rare award.
Professor Douglas Paul received the Institute of Physics President's Medal at an event in London today (Wednesday 15 October).
Just eight of the medals have been presented since the award's inception in 1998. Past recipients include particle physicist and broadcaster Professor Brian Cox in 2012 and Sir Timothy Berners-Lee, inventor of the World Wide Web, in 2006.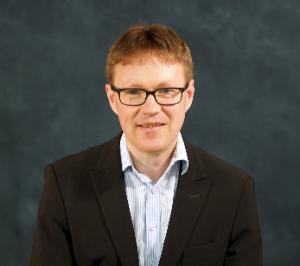 ‌
The medal is presented to individuals who have, in the Institute's words, 'provided meritorious services in various fields of endeavour which were of benefit to physics in general and the Institute in particular.'
Dr Frances Saunders, the Institute of Physics' president, chose Professor Paul in recognition of his achievements in translating physics research into advanced technology.
A graduate of the University of Cambridge, Professor Paul joined the University of Glasgow's School of Engineering in 2007 after distinguishing himself with silicon-germanium alloy semiconductor research at Cambridge's Cavendish Laboratory.
Since 2010, he has been director of University of Glasgow's James Watt Nanofabrication Centre (JWNC), the UK's most advanced micro- and nano-scale fabrication facility. The JWNC, which houses more than £25m of nanofabrication tools in a 900-square metre facility at the University's main campus, supports fundamental, applied and commercial research and development in a wide range of fields.
Professor Paul said: "I'm pleased and proud to have received the President's Medal from the Institute of Physics. It's a tremendous honour and I'm very grateful for the recognition.
"I'm also pleased that the work of the James Watt Nanofabrication Centre is receiving the attention it deserves. We have collaborated with 90 universities and 288 technology companies in 28 countries around the world, and the Centre's revenues have increased by more than 50 per cent since 2010.
"While it has a sterling reputation in academia and industry, some of the Centre's most impressive achievements must remain unknown to the public due to non-disclosure agreements with our clients.
"However, our work plays a key and ongoing role in helping to design and fabricate prototype components found in popular high-tech devices like mobile phones which people would be very familiar with."
Dr Frances Saunders, President of the Institute of Physics, said: "I chose to present Professor Paul with the President's Medal in recognition of his efforts to enable the prototyping and development of proof-of-concept nanoelectronics, quantum technologies and energy harvesting. Such enabling research is often unseen and unsung yet it is absolutely critical to translating the latest thinking in physics into something concrete that can benefit the economy and society.
"I am also keen to recognise people who use their knowledge of physics to create a wider impact on government policy for the future of the UK. Professor Paul's impressive work as an advisor to UK government bodies such as the Defence Science Advisory Committee is a testament to his contribution outside academia."
Professor Anton Muscatelli, Principal and Vice-Chancellor of the University of Glasgow, said: "On behalf of the entire university I offer the warmest congratulations to Professor Paul on receiving the Institute of Physics' President's Medal. The James Watt Nanofabrication Centre is one of the University's leading centres of excellence and it has gone from strength to strength under his directorship. This award is a tremendous and fitting tribute to all that Professor Paul has achieved."
---
Media enquiries: ross.barker@glasgow.ac.uk / 0141 330 3535
First published: 15 October 2014