Dr Hector Diaz Albiter - a Tribute
Issued: Thu, 11 Feb 2021 17:19:00 GMT
Staff at the WCIP were devastated to learn of the death of our former colleague and friend Dr Hector Diaz Albiter who passed away after a short illness in his native Mexico. Before his return, Hector was in Professor Mike Barrett's group at the WCIP.
Mike writes:
Hector Diaz-Albiter first contacted me back in 2015. He was keen to come to Glasgow and join the Wellcome Centre for Integrative Parasitology. Moreover, his wife, Morvyn, hailed from nearby and they could spend time in the wonderful west of Scotland. We met, first, in Stravaigin. It was immediately clear that Hector was not just interested in parasites, he was passionate. Especially about the ways whereby they transmit between people and take up a complex residence within insect vectors. I have lamented medical entomology's decline as an art. Hector made it seem like the most exciting thing in the world. We agreed he really should come to Glasgow.
He put a proposal together to the Royal Society to work on metabolomic aspects of the Leishmania-sandfly interaction. The bid was successful. In June 2016 he began his work here.
First things, first. He had to establish a sandfly colony. This was no mean feat. An act of extreme perseverance with repeated trips to Lancaster and to York to collect the tiny flies. That was between the interminable form filling and paperwork required to satisfy all health and safety needs. With great care and affection he eventually created a sustainable colony. Sandflies like to imbibe blood through skin. The butchers on Byres road must have wondered who the chap with a penchant for chicken skin was! Hector was an immensely skilled man. Sandflies are just a few millimeters long. And yet, he could dissect out their miniscule midguts to enable analysis of the parasites within them. If you don't believe me, watch the videos.
He was able to transfect Leishmania parasites with genes encoding fluorescent proteins enabling them to be tracked through the sandfly. Upon taking up his position in Mexico, he ran into a bureaucratic hiccup; his employers insisting he needed to have a published article from his previous position in order to take up his post. They gave him exactly four days to deliver! Thank heavens for Wellcome Open Research, a journal that allows an article to become available to the public even prior to its acceptance following peer review. In record speed, his work establishing a fluorescent leishmania parasite, whose passage through the sandfly could be traced by microscopy, was published.
Hector worked tirelessly to build the sandfly insectary in Glasgow, spending most mornings tending to his loved ones. Keeping mites out of the sandfly cages was a job in its own right, yet he'd chip away, to keep his little Lutzomyia friends free from these unwelcome neighbours. He obtained the metabolomics data he set out to gain too and has revealed some amazing evolutionary facts around immunity in insects with metabolic tracers that appears to have been conserved in man.
His ability to communicate science was unrivalled too. Enthusiastic, bubbling with ideas and thrilled to see eyes open wide as he explained to anyone, of any age, willing to listen, the marvels of those insects that carry disease.
As a colleague and friend too he was a great, great man. Always welcoming to others joining the lab. The heart and the soul of any party. A talented musician. The kind of person whose very presence brings cheer to many.
Having established himself back home in Mexico, thrilled to be fulfilling his dream of building a research focus in medical entomology in Tabasco, he joined us for a lockdown Christmas get together by Zoom late last year. Within a few minutes, he was singing along to his Ukelele. Those tuning in from Scotland, England, Germany, France, Switzerland, the USA, Malaysia and beyond joined in too. Hector turned our gathering into a party.
The news of his sudden illness late in January came as a shock. The speed at which many hundreds of people contributed to the crowd fund aiming to save him brought relief. The dreadful news of his death left myself and many others heart broken. The world of Parasitology has lost a great person as the extraordinary outpouring of sadness at this news has shown.

Hector was very active in public engagement. Dr Vickie Curtis, the Centre's public engagement manager writes:
Hector was passionate about his research and an enthusiastic communicator. His enthusiasm was infectious. Working with him to develop public engagement activities was terrific fun, and Hector was incredibly creative. A gift for someone in my role!
While he was at the Centre, we produced two short films with director Mike Callaghan on leishmaniasis and Chagas disease. These have been viewed thousands of times and show Hector's skills as a medical entomologist. In the film about leishmaniasis, Hector dissects a sandfly (the size of a midge) to reveal where the leishmania parasites reside in the insect vector. I was always impressed with the incredible skill required for this high precision work, and it was wonderful to be able to highlight this side of parasitology research. Going to the insectory with Hector was always illuminating, and we brought some of this work to Glasgow Science Festival in 2017. Hector kept the audience spell bound as he showed them how mosquitoes and sandflies carry some of the most lethal infectious organisms.
Hector was also a talented visual artist and produced a number of pieces based on his research. One of the photographs he took of a sandfly was awarded a prize by the International Society for Neglected Tropical Diseases. He was a fan of our parasitology comics and came to Glasgow Comic Con to help promote them, indeed, he participated in many of the local festivals and other science events while he was in Glasgow. The infectious enthusiasm for his work held young (and older) audiences captivated.
After Hector's return to Mexico, we stayed in touch, and planned to collaborate again. While sadly I will not have that opportunity, I continue to be inspired by Hector's work and his generous approach to communicating about his research. Hector was one of a kind and will be greatly missed by all who knew him.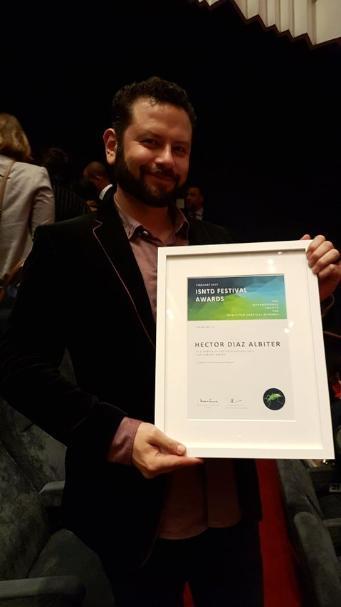 ---