University welcomes Scottish Cabinet to Crichton campus
The Crichton campus in Dumfries is playing host to a formal meeting of the Scottish Government's Cabinet for the first time.
Director of Glasgow University's Crichton Campus, Professor Ted Cowan warmly welcomes the First Minister and the cabinet to Dumfries and plans to present each of those attending with a copy of his recently published, revised and updated monograph, 'For Freedom Alone: The Declaration of Arbroath, 1320' to mark the occasion.
The book is a detailed study of the letter sent to the Pope on 6 April 1320, often described as Scotland's Declaration of Independence. The document is one of Scotland's great historical icons, now celebrated worldwide for its trenchant appeal to freedom and its invocation of the idea of the sovereignty of the people. Professor Cowan believes that Scotland was on the cutting edge of political thinking in Medieval Europe due to her unprecedented experiences in the Wars of Independence.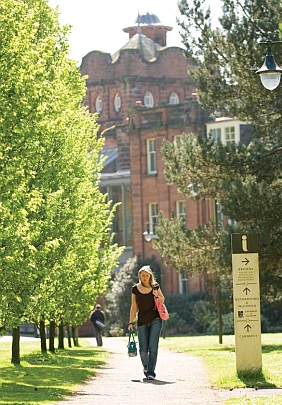 As well as the Cabinet Meeting, to be held in Browne House** on Tuesday 29 July, Ministers will host a good causes reception, take part in National Conversation public meetings and undertake Ministerial engagements during their two-day visit to the southwest of Scotland.
Earlier this year, the University of Glasgow secured a funding package from the Scottish Government to maintain and develop its activities on the Crichton Campus in Dumfries. Its academic partners on the Campus are the University of the West of Scotland, Dumfries and Galloway College and the Open University (Scotland).

The University provides research degree supervision in Tourism, Scottish Cultural Heritage and Scottish Folklore and will launch a Robert Burns Studies degree next year. There is also an MLitt in Managing Health and Wellbeing. In association with the Crichton Carbon Centre and academic staff in the University's Centre for Development Studies, it provides a taught MSc in Carbon Management, the first of its kind in the UK. Undergraduate programmes are offered in Liberal Arts and Health and Social Studies and, in collaboration with the Faculty of Education in Glasgow, an undergraduate programme leading to the award of an MA with a primary teaching qualification is being launched in 2008.

Further information:
Martin Shannon, Media Relations Officer
University of Glasgow Tel: 0141 330 8593
* 'For Freedom Alone: The Declaration of Arbroath, 1320' by Professor Edward Cowan is published by Birlinn.
** Browne House, the Dumfries Campus Centre for Continuing Professional Development, was established in 2001 as a centre for conferences, training and events. It plays an important role in linking the academic community based on the Dumfries Campus with local businesses and public services. The £1 million Centre contains state-of-the-art audio-visual communication and video conferencing facilities which allow people locally to participate in meetings and workshops held all over the world. www.browne.org.uk
---
First published: 25 July 2008