Archbishop of Canterbury is welcomed by the University of Glasgow
The Archbishop of Canterbury, Dr Rowan Williams, has delivered a free public question and answer session at the University of Glasgow.
Dr Williams was in conversation with Professor Mona Siddiqui of Theology and Religious Studies in the Bute Hall. More than 700 people packed out the hall to hear the Archbishop discuss a wide range of issues.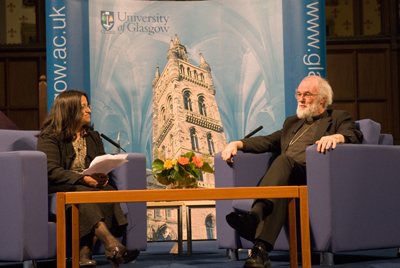 These included inter-faith relations, Sharia law, Karl Marx, religious freedom in China, biomedical research and even the current BBC row.
Members of the audience were also given the opportunity to put their question to the Archbishop.
Professor Mona Siddiqui said: "It was a huge privilege for myself and the University to welcome Dr Rowan Williams to Glasgow. This conversation was an opportunity for both the lay and scholarly community to engage with one of the leading Christian theologians of our time.
"It is ten years since the Centre for the Study of Islam was established and this event was a truly fitting tribute to all that the Centre stands for."
The Archbishop of Canterbury is the chief bishop and principal leader of the Church of England and is the symbolic head of the worldwide Anglican Communion and the diocesan bishop of the Diocese of Canterbury.

Watch a recording of the discussion at this address: http://www.gla.ac.uk/services/it/archbishop/
Further information:
Martin Shannon, Media Relations Officer
University of Glasgow Tel: 0141 330 8593
---
First published: 22 October 2008