Historian Niall Ferguson to visit the University
Published: 31 October 2008
The internationally-renowned historian and broadcaster Niall Ferguson is to visit The University of Glasgow on today.
The internationally-renowned Scottish historian and broadcaster Niall Ferguson is to visit The University of Glasgow on Wednesday 5th November.
In this eagerly anticipated event, Professor Ferguson will discuss the issue of money as the cornerstone of human progress and decline in promotion of his latest book, The Ascent of Money: a Financial History of the World.
He will also give his views on the election of Barak Obama as US president.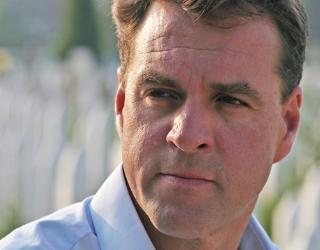 Best known for his bestselling works on the First World War and the American Empire, Ferguson on Money is the Scot's latest Channel 4 television series where he discusses money and its role in the economy, politics, the arts, war and peace.
Glasgow-born Niall Ferguson is the Laurence A. Tisch Professor of History at Harvard University and William Ziegler Professor at Harvard Business School. His books include; The Pity of War, The Cash Nexus: Money and Power in the Modern World, 1700-2000, Empire: The Rise and Fall of the British World Order and the Lessons for Global Power, Colossus: The Rise and Fall of the American Empire and The War of the World: Twentieth-Century Conflict and the Decline of the West.
The event is being hosted by Michael Schmidt, Professor of Poetry at the university.
Professor Schmidt said: "Niall Ferguson is a considerable intellectual force. He is also a vivid writer, and we feel it is entirely appropriate for the Creative Writing Programme to host his visit to Glasgow, to Adam Smith's own University. Economics sometimes function like fiction, mathematics like poetry: it's how you tell it, and Professor Ferguson is a great narrator. We're proud to welcome him to Glasgow."
The free event will be held at Wellington Church, 77 Southpark Avenue, Glasgow, from 18:00 to 19:00.
You can turn up on the night or to book a place please telephone Aye Write service development on 0141 287 2870 or email lil@csglasgow.org.
A collection will be taken to support the Glasgow University Creative Writing Scholarship Fund.
---
First published: 31 October 2008